Man arrested at Belfast airport carrying €180,000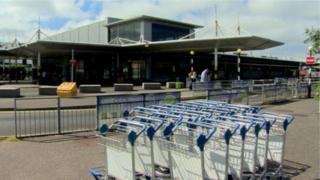 A man has been arrested at Belfast International Airport after attempting to board a flight to Spain with €180,000 (over £158,000) in cash in his luggage.
The 39-year-old man, an Irish citizen, was due to travel to Alicante on Wednesday 9 May.
The cash was seized under the Proceeds of Crime Act and the man was released on bail.
The National Crime Agency (NCA) has begun a money laundering investigation.
The man was arrested by officers from the Border Force before the case was passed to the NCA.
John Oldham from the Border Force said that the agency "has a responsibility to investigate cash in excess of £1,000 being taken across the border when we have reasonable grounds to suspect that it is linked to criminal enterprise."
"Working with law enforcement colleagues like the NCA we are determined to do all we can to combat criminality and interventions like this are the vital first step," he added.