Universal Credit: Benefit 'flaw' penalises Derry mother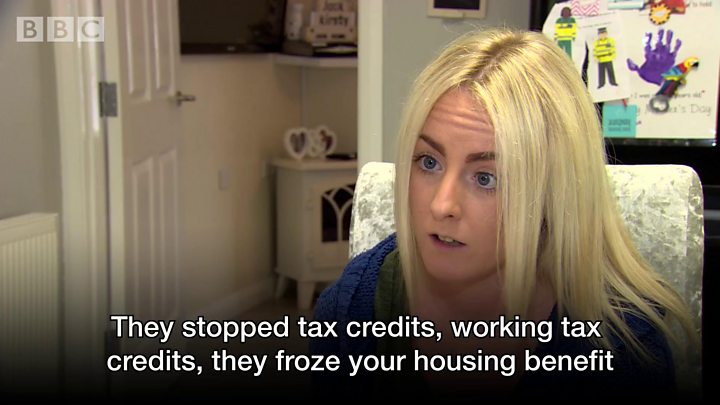 A mother from Londonderry has received no benefits for seven weeks due to the roll out of a new Universal Credit process in Northern Ireland.
The scheme started in Foyle in February and is due to begin in Newry on Wednesday.
Kirsty Johnston fits the profile of people Universal Credit is supposed to help.
A single parent and part-time worker, she has her salary topped up with tax credits.
'Stopped my tax credits'
Universal Credit merges six benefits into one single payment and is supposed to remove the so-called 'benefits trap' where people are better off staying on benefits than working.
The idea is to taper off benefits slowly and allow claimants to earn more money before their benefits are cut.
At the end of March, Kirsty Johnston says she went into her local benefits office to help a family member and talked to a member of staff who told her she would be better off on Universal Credit.
"It sounds beneficial but for me as a working person it has been completely the opposite," she said.
"They stopped my tax credits, my working tax credits. They froze my housing benefit which I only get a small amount of help with anyway."
That was seven weeks ago and Kirsty hasn't received a penny in benefits and has no idea when or how much she will receive.
"I can't stress how hard it is. How somebody like me is supposed to live I just don't know," she said.
'Frustrated'
So how is she managing?
"Literally family," explained Kirsty.
"I was offered food vouchers and I know they're helpful for people but when you're working and trying your best it just makes you feel so low so I wouldn't take them."
Kirsty is a carer working 16 hours a week. She needs a car for her job and her salary of £500 a month covers her rent and petrol.
The usual £128 a week she receives in benefits pays for everything else. Without it she says she is completely lost.
"I am so frustrated. It might not look like it because I'm trying to do my best and stay positive but every night I sit down and I think how am I going to pay my petrol, my rent, I have no clue," she said.
"I was given a bit of hope that I would have a meeting yesterday but it was a no show and now I'm none the wiser."
'Fundamental flaw'
The problem seems to have arisen because of the date Kirsty Johnston was assessed.
It was at the end of the month and because she was paid at the end of March and then at the end of April, the benefits office registered two payslips in a four week period and assumed she was being paid twice as much.
Advice NI which offers help to benefits claimants says it is a fundamental flaw of the new system.
The charity's Head of Policy Kevin Higgins said: "The problem with universal credit depends on the assessment period and if it's done at the end of the month it's more likely that two monthly wages will be taken into account.
"That can dramatically change the amount of benefit paid or cut it entirely. That introduces confusion and along with confusion comes hardship," he added.
"There's a danger that it will effect public confidence in the new Universal Credit system."
Kirsty now has no choice but to wait and continue to depend on family.
"My mum brings me up a dinner most nights but sometimes I get really down about it," she said.
"I'm trying to better myself but now I can see why people don't work if it brings all this worry."
Newry is the latest place to introduce Universal Credit beginning on Wednesday.
It will be further rolled out across Northern Ireland in the coming months.
A spokesperson for the Department for Communities said it could not "comment on individual cases" but had been "in contact with the claimant to address her queries and concerns".
"Universal Credit always provides for advance payments to be made, which can be up to 100% of the estimated entitlement, therefore there should be no requirement for a claimant to wait seven weeks until receiving a payment," they said.
Advice NI can be contacted on 0808 802 0020