RHI Inquiry: Stuart Wightman back to answer questions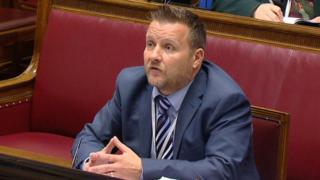 An official who helped run the RHI green energy scheme has again denied that he inadvertently helped cause the huge spike in applications.
Stuart Wightman told the RHI Inquiry on Tuesday that he wishes he had not held informal conversations with the poultry and energy industries.
Mr Wightman was recalled to address the inquiry panel on Tuesday.
He accepted his engagement with RHI stakeholders had "led to increased awareness" of proposed tariff changes.
But he said there was "no evidence" that it resulted in an increase in applications during July or August 2015.
The informal engagement took the place of a wider formal consultation.
"I realise that some of the engagement does look naïve now, given hindsight," said Mr Wightman.
"But it was done for the right reasons at the time, with the information I had available to me. But I totally look back now and say I wish I hadn't done that."
In July 2015, Mr Wightman began informal consultation with poultry giant Moy Park and a number of renewable energy companies about proposed changes in the scheme.
They were introduced in November that year.
They included cost controls designed to address growing pressure on the budget from increasing numbers of applications.
Mr Wightman said DETI's then energy boss John Mills knew he was in touch with industry but he could not remember having a discussion with him in which he laid out that the changes were being revealed to the industry.
This is the 64th day of the RHI Inquiry and the first day it is sitting this week.