Is Northern Ireland's economy approaching full employment?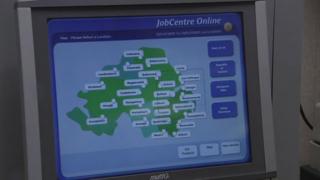 The unemployment rate in Northern Ireland has fallen to its lowest ever level of 3.1%. Does that mean the local economy is now approaching full employment?
In the Belfast restaurant trade, the idea that we might be close to full employment does not sound fanciful.
A series of new hotel openings has made it increasingly difficult to find staff.
"There's a saturation of restaurants and hotels, which is amazing", says Brian McCann, chef-director of Shu restaurant.
"But it leaves a serious shortage of skilled staff, that's the problem. There's lots of jobs available."
His restaurant is expanding and to help find the necessary staff it has launched an apprenticeship scheme in partnership with Belfast Metropolitan College.
So in some sectors employers are having to work hard to recruit and retain workers.
But can we talk about full employment? And what does that actually mean?
"It's easier to talk about what it doesn't mean," says Richard Ramsey, Ulster Bank's chief economist.
"It doesn't mean you have zero unemployment, it doesn't mean that everyone has a job.
"What it does tend to mean in economist-speak is that it's as low as you can get the unemployment rate before you start getting inflationary pressures."
'Not seeking work'
For the UK, that tends to mean an unemployment rate of about 3%.
But Mr Ramsey points out that the concept of full employment goes back to the 1940s when the labour market was much less complex than it is now.
That point is echoed by Andrew Webb, a Belfast economist who works at the advisory firm Baker Tilly.
"I don't think we're anywhere near full employment. I think the unemployment figures are increasingly unreliable as indicators."
Like most observers of the Northern Ireland labour market, he focuses on the high rates of economic inactivity.
This measures the number of working-age people who are not in a job and are not seeking work.
The UK inactivity rate is 21% but in Northern Ireland it is 28% - which equates to 328,000 people.
Among that number are students and retired people - but almost one in five of the inactive cohort in Northern Ireland say they would like to work.
'Job quality'
Mr Webb says that puts the headline unemployment rate into perspective.
"If you look at the inactivity rates and people who don't have a job, but want work, then that brings the workless population up to about 8%."
There is also a mismatch between Northern Ireland's labour market and the overall weak performance of the economy.
Mr Ramsey points out that the private sector is producing the same amount of economic output as it did 12 years ago but with an additional 70,000 jobs.
"What does that say about productivity, what does it say about job quality?"