PSNI chief constable disputes PM's 'terrorists' claim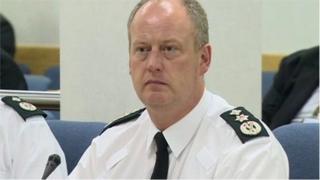 A statement by the Prime Minister that terrorists are not being pursued for Troubles killings is not supported by official figures, Northern Ireland's chief constable has said.
But George Hamilton said he understands why some politicians might feel there is a greater focus on former soldiers and police officers.
Many former soldiers have claimed they are victims of a witch hunt.
Some MPs back claims military veterans are being unfairly targeted by police.
"We're knocking lots of doors of people who were involved in terrorist activity, and certainly beyond the police and military community," Mr Hamilton told the BBC.
According to figures released by the Police Service of Northern Ireland (PSNI) last year, around 70% of investigations into killings during the Troubles do not involve the security forces.
The PSNI last week said those figures have not changed substantially.
That position was reiterated by the Chief Constable today.
He said the way the criminal justice system works may create the impression that there is a greater investigative focus on former soldiers and police officers.
"Our figures are out there, the facts speak for themselves," he said.
"There's about 30% of our caseload within legacy investigations branch that is focussed on former military personnel, so-called state actors."
He said he could also understand the feeling that there is a greater focus on former police and military personnel than "on the terrorists and former paramilitary groups."
"That's because of the way the system works with referrals from the director of public prosecutions, from the coronial system and requests from the Attorney General," Mr Hamilton added.
The Chief Constable today also repeated concerns that the use of the term "collusion" is damaging public confidence in policing.
"The term collusion is a grey area. It is not defined in law," he told a conference on Victimhood and Dealing with the Past at Queen's University.
He said the problem was "much bigger and more complex than the 'few bad apples' analogy that has been articulated previously", because the absence of any regulatory framework meant police officers dealing with agents were left to set their own standards.
Mr Hamilton said the absence of an agreed policy to deal with the past, and the "constant adversarial" debate about the issue of collusion, was sapping confidence in policing.