Ex-Irish league footballer Jamie Davidson jailed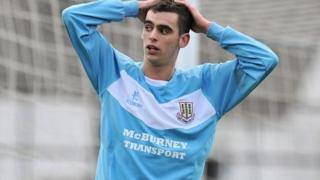 A former Irish league footballer has been jailed for a year after admitting trying to steal cash from three shops in Ballymena, County Antrim.
The court heard that Jamie Davidson, 24, from Carnduff Drive in the town, committed the offences last year in order to repay a violent loan shark.
Davidson was previously a striker with Ballymena United.
He was ordered to spend a further year on licence after his release.
Antrim Crown Court Judge Desmond Marrinan said it was "tragic to see a young man with your gifts as a footballer end up in this situation".
"While life won't lead to the glittering prizes on the soccer field, keep away from the villains and rogues who lent you this money and who probably knew that you could not repay it and so held you in a Svengali like grip," he said.
Father-of-one Davidson, was previously scouted by the likes of Liverpool and Tottenham Hotspur, however his progress was halted by injury.
In August 2012, he scored both goals for Ballymena United in a 2-0 win over Linfield.
In court on Monday, defence barrister Michael Smith described Davidson's appearance in court as a "massive fall from grace."
At an earlier hearing, Davidson pleaded guilty to the attempted robbery of a Polita shop on Lower Mill Street in Ballymena, trying to steal a camera from Currys in the town, damaging the camera's security cable as well as the attempted theft of cash from a Save the Children charity shop and from Nik Naks in Ballymena.
Prosecuting lawyer Tessa Kitson told the court that the incidents all happened within a few hours on 28 November last year and followed roughly the same pattern of Davidson entering the various shops, asking for money, but leaving empty-handed.
She said the only time Davidson produced the knife he had was at the Polita Polish food shop, but that as he held it "so low and far away", the woman behind the counter did not realise it was a robbery until later that day.
The court heard that Davidson had held an empty bag out but possibly because of the language barrier, the woman did not comprehend he wanted her to put cash in it.
In relation to the incident at Currys, the lawyer said the manager was alerted when an alarm sounded.
'Gambling addiction'
The former footballer was arrested when one witness named him and told cops he "was a good guy who used to play for Ballymena United but I never knew what became of him".
In his plea in mitigation, Mr Smith said Davidson's life "began to spiral out of control" after the injury which ended his career in 2016, "including a gambling addiction he could not afford and the break up of his relationship".
"He has fallen into debt to a particular individual in Ballymena who would be known to the police and is known to be violent," the lawyer said, adding that it was in desperation with that debt doubled "for no apparent reason," that Davidson had tried to steal money.
Mr Smith also revealed that Davidson's family had paid the debt off "for the defendant's own safety" but that since then, he is "trying to reconstruct his life" and find a different career, possibly as a barber.
Judge Marrinan said that Davidson's life "seems to have gone astray dramatically over a short period of time" following his football injury, something which was "out of your control".
He described the incidents as "probably the most bizarre, inexpert attempted robberies I have ever witnessed," and said that given Davidson's background and motivation to change, he was not activating previous suspended sentences.