Bad weather causes record driving test cancellations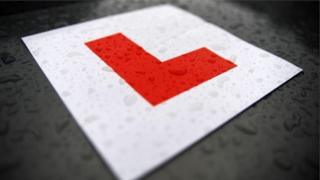 This winter's adverse weather conditions resulted in a record number of driving tests being cancelled in Northern Ireland.
1,267 driving tests were scrapped from November-April - almost 1,000 more than the previous two years combined.
Despite less frost in December than usual, 527 driving tests were cancelled by Driver and Vehicle Agency (DVA).
The Department of Infrastructure spread 117,000 tonnes of salt this winter, "the most ever used in one season".
They told the BBC they faced difficulties when re-booking cancelled tests quickly "whilst further snow was falling or being forecast".
'More sustained and severe'
Frost and snow caused the cancellation of 158 driving tests in 2015/16 and 162 tests in 2016/17.
But this winter saw a staggering 1267 cancellations.
December was the biggest month for cancellations, with 527, followed by 280 in January and 256 in March.
The unusually high number in March was caused by Storm Emma, which led to car, bus, rail and flight disruptions across Northern Ireland.
'Substantial increase'
The Department of Infrastructure (DoI) changed the way in which they recorded test cancellations for the 2017/18 winter period, with the figure reflecting 'all reasons', such as adverse weather, examiner sickness and road closures.
But they said the "substantial increase" in the number was "directly attributable to the more sustained and severe periods of frost/snowfall experienced this winter".
Despite the prolonged disruption, the DoI say they did not incur any additional costs.
"The Agency makes every effort to prioritise cancelled tests and ensure customers affected have their test conducted as soon as is reasonably possible after cancellation," said a DoI spokesperson.
"Local test centre managers adopt a range of measures, for example, applying extra resources and filling cancelled slots, to help them recover the lost tests.
"In most cases tests would have been carried out within 10 days or, if the customer prefers, at a later date with no additional fee being charged."
'Less than normal'
The Met Office said Northern Ireland was 0.5 degrees celsius cooler than average from December to November, based on figures started in 1981.
But during December and January, "the number of days with a ground frost was less than normal".
The Met Office added: "However during February there were more days of ground frost than normal (roughly around 5-10 days more, compared to the average).
"In terms of snow, there have been a few notable snow events through the winter, but more particularly towards the end of the season and into March."