Royal wedding 2018: 'A wee country affair'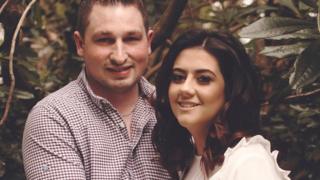 All eyes will be on Prince Harry and Meghan Markle on Saturday, but wedding bells will also be ringing out a little closer to home.
Lesley Gordon and William Shields will marry in Kilkeel, County Down.
Their venue is Mourne Presbyterian Church, there will be about 150 guests - and an unusual theme: pigs.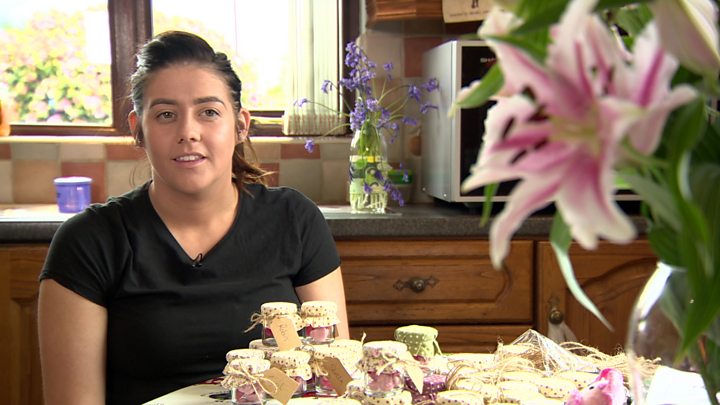 Just a mere half an hour after the royal nuptials have begun in Windsor, the Kilkeel couple will be taking their vows.
So how do they feel about sharing their special day with royalty?
Lesley said: "William actually was on the lorry and he rang me. And he said: 'Lesley! Lesley! Guess what's happening on our wedding day?'"
"And I thought: 'Well. This will be good.'
"And he goes: 'It's the royal wedding, we're famous, we're famous.
"I just couldn't believe it was the same day. It was great. It's like marking the occasion, we'll never forget it. There's a royal wedding on the same day."
Wee country affair
She said they were going to book 12 May - but realised that would coincide with the Balmoral Show, Northern Ireland's largest agricultural festival. As William is a pig breeder and dealer, they felt that was not an option.
So the wedding was moved forward a week - and now coincides with the biggest event in the Royal Household this year.
The County Down couple have been planning their wedding since they got engaged on Valentine's Day 2016 and their reception will be held in a marquee at home.
Ms Markle and Prince Harry announced their engagement last November - so the Northern Ireland couple have had a bit more time to prepare for their big day.
"They're crazy," said Lesley, a hairdresser. "I don't know how they do it in a lot of months. I don't know, it's wild.
"I've been two years planning and still running the roads to get everything sorted."
Dress comparison
The couple have a six-month-old daughter, Paislee, who keeps them busy.
Lesley has also been busy organising the church, the dress and the bridesmaids, not to mention filling jars with mini, pink pig-shaped sweets, in keeping with the wedding theme.
So is Lesley planning to have a sneak peek at Ms Markle's dress?
Or does she mind if her guests slip off for a glimpse at the other bride?
"I think they'll try and get a TV somewhere and have a quick glimpse... but I'll probably not have time to see anything. I might record it and see it the next day.
"Her dress will probably be amazing. It definitely will be outstanding."
People love weddings and Kilkeel is no exception, with many people turning out when there is a local service, hoping to catch a glimpse of the blushing bride.
But as Lesley and William's service begins at 12.30 BST - half an hour after the royals' - the County Down bride is hoping spectators will be watching their televisions, rather than watching her.
"Hopefully, they will all be at home watching the TV," Lesley laughed.
"Ours will just be a wee, country affair, compared to their grand occasion."
If you are getting married on Saturday and want to have your wedding picture featured on BBC News NI output please send them to bbcnewsni@bbc.co.uk