Court ruling could have huge implications for NI government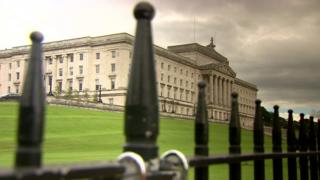 For the past 16 months Northern Ireland has been in a state of administrative limbo, with no functioning devolved government, but no direct rule from London.
Stormont civil servants have regularly complained about the absence of ministers.
However the Northern Ireland Office has proved extremely reluctant to take over the reins of power, fearful that such a move might alienate nationalists and make a deal even harder to achieve.
Left to their own devices, the civil servants tried to develop a rationale for when they could intervene and when not.
Dealing with emergency situations, like the impending Storm Ophelia in October 2017, appeared straightforward.
But would the same logic apply to making other decisions deemed in the "public interest"?
In September 2017 the then Department for Infrastructure permanent secretary Peter May felt he had the public interest on his side when he gave an incinerator at Hightown the go-ahead.
Mr May told me he would have much rather had a minister in place to take the decision, but he was convinced there was a strong need for the development and any undue delay would be "damaging".
But High Court judge Mrs Justice Keegan has now rejected Mr May's belief that he had the power to make the decision himself.
The judge concluded that parliament cannot have intended "such decision-making would continue in Northern Ireland in the absence of ministers without the protection of democratic accountability".
Clearly this has implications for the feasibility of continuing the current limbo at Stormont.
Former first minister David Trimble's former adviser, David Kerr, described the High Court judgement as a "huge decision" with "massive implications for the government in Northern Ireland".
Mr Kerr surmised that the "NIO will have to appoint direct rule ministers now, otherwise the machinery of government will stop".
Richard Bullick, a one-time adviser to another former first minister, Peter Robinson, raised similar questions asking: "Is direct rule or new Westminster legislation now inevitable? But perhaps first an appeal?"
If officials can't make decisions without ministers, then it's not only the Hightown incinerator development which could be due a rethink.
A group of landowners have launched a separate legal challenge to the Department for Infrastructure's decision to approve a north-south electricity interconnector between counties Tyrone and Meath.
Among the arguments their lawyers will deploy is the absence of a Stormont minister.
The implications could reverberate, not just for decisions previously taken, but others yet to be approved.
Some lobbyists fear Stormont officials could now delay taking any action in relation to issues like the proposed new GAA stadium at Casement Park in west Belfast or the planned gas fired power station in the City's Harbour estate.
Stormont officials are now considering Mrs Justice Keegan's judgment while they decide whether to appeal.
They may ponder whether it is best to appeal to a higher court, or to the Secretary of State Karen Bradley, whose reluctance to intervene has left them living with a "halfway house" no civil servant can feel comfortable inhabiting.