Department of Health allocates £15m for workforce challenges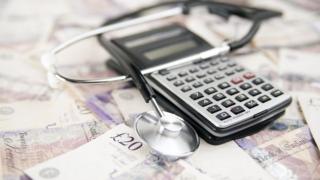 Nearly 100 extra nurses and midwives will be recruited under a plan to improve working conditions in the health service.
The long-term workforce strategy aims to raise staff retention and help boost work-life balance.
An initial payment of £15m will go towards workforce development, with a third earmarked for nursing, midwifery and other professions.
The British Medical Association said it was a "step in the right direction".
But it said the plans needed to be "coupled with a reduction in waiting lists, pay parity and more staff on the ground".
The money comes from the £100m transformation fund for 2018/19 - part of the DUP's confidence and supply agreement with the Conservative government.
'Workforce gaps'
About £5m is set to go towards nursing, midwifery and so-called allied health professions, such as speech and occupational therapists.
This will include 1,000 nursing and midwifery places commissioned from universities from 2018/19.
There will be 74 additional pre-registration nursing places and 25 additional midwifery places.
Priorities in the workforce strategy, which will run until 2026, include:
Plan for implications arising from Brexit and subsequent implications for EU and non-EU workforce
Establish non-salary incentives to recruit and retain people or deal with pressures in less popular specialities
Adopt and roll out new regional staff health and well-being policy
Develop new ways of working and jobs
Richard Pengelly, permanent secretary of the Department of Health, said the investment would "make an important difference".
"We need to ensure that we aren't just fixing the problems from 2006 or 2016. We need to look forward to 2026," he added.
"The workforce challenges are certainly not unique to Northern Ireland and resolving them is a long-term task, inextricably linked to the need to transform the way we deliver services."
Dr John D Woods, Northern Ireland council chairman of the British Medical Association (BMA), said the plan would hopefully address the "gaps in the workforce" and "poor work-life balance".
"The pressure healthcare staff are under on a daily basis cannot be overstated and reducing this pressure is central to making the health and social care sector somewhere people want to work," he said.
"Without the appropriate numbers of staff working in the right environment, who are supported and resourced to do their jobs properly, we cannot have the health service we all aspire to."
Unison's John Patrick Clayton said there was an over-reliance on agency workers in the health service, which came at a "premium rate" and the union would like to see that money diverted towards hiring permanent staff instead.
He also said that as the £100m funding was a one-off, more would have to be found over subsequent years in order to make the strategy successful.