Wilson accuses Coveney of having head 'stuck in sand'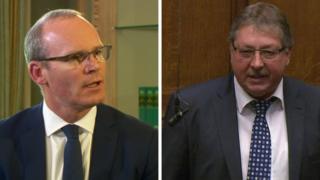 The DUP MP Sammy Wilson has accused the Irish foreign minister of having his head "stuck in the sand" for refusing to consider technology as a solution to the Irish border.
Simon Coveney dismissed the idea of using such infrastructure post-Brexit on the BBC's Andrew Marr programme.
He claimed it would put the Good Friday Agreement at risk and a seamless border was the only answer.
Mr Wilson said he was "belligerent, interfering and Brit bashing".
He claimed the tánaiste (Irish deputy prime minister) was using Brexit as an "excuse to break-up the UK".
"The fact is that the border issues can all be dealt with by technology but Coveney and co have stuck their heads in the sand, refusing to even consider this solution," he added.
Mr Coveney said using any form of infrastructure or technology to maintain separate customs regimes between the Republic of Ireland and Northern Ireland would not work.
"Listen to the chief constable of the PSNI. He is saying any infrastructure on the border, any physical infrastructure on the border, is going to represent a risk to his officers. He's warning not to go down that route."
He said the two governments could agree a "shared customs space or shared customs territory" and echoed Theresa May's language of a "customs partnership".
Mr Coveney said the Republic of Ireland wants a "shared customs territory" - where the same rules and regulations would apply to both sides of the border.
He said: "There was a clear agreement that the British prime minister signed up to that there would be no border infrastructure of any kind, on the island of Ireland and no related checks or control.
"That means we're not talking about cameras and scanning systems and drones here.
"It means were talking about about a political solution that allows for regulatory alignment in a way that prevents the need for border infrastructure."
However Mr Wilson, disagreed, saying border technology was one way to deal with the issues.
"He knows that the hard border option is out.
"He knows that the breaking up of the UK is out and that leaves only one solution," he said.
"That is the solution of using the technology that is available and of course getting a deal between the UK and the EU which gives a free trade arrangement anyway, an arrangement which suits both parties," he added.