Steven Agnew calls for councils to receive Stormont powers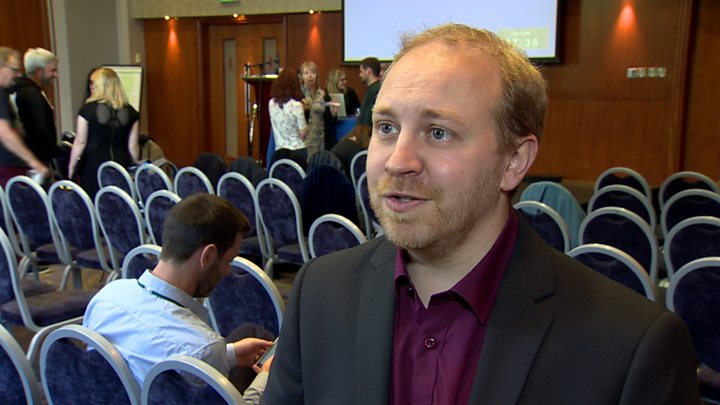 Green Party NI leader Steven Agnew has said that local councils should be given a greater role in the absence of devolution.
He was speaking at his party's annual conference in Belfast.
Mr Agnew told activists that if MLAs do not want power, local councillors should instead be given extra responsibility.
He also said that it was Sinn Féin and the DUP who have "destroyed our assembly".
He added that, in the absence of devolution, it was important to focus on the role of local government.
Northern Ireland has been without an executive since January 2017.
Subsequent talks have failed to restore the power-sharing institutions.
"With the assembly currently not sitting, it is right that this conference focuses on the valuable work carried out by our local councils and their role in providing local democracy," the Green Party leader said.
"The message to MLAs is clear - if you do not want the power, if you do not want the responsibility, then councils are ready and willing to step up."
He reaffirmed that he wanted the assembly back but said local councils could play an important role.
He said local authorities could fill "some of the gap" in the absence of devolution.
So how could a transfer of power from Stormont to local councils work?
Derek McCallan, the chief executive of the Northern Ireland Local Government Association, was a guest speaker at the conference.
He told the BBC this was not about a "power grab" but was about "practical solutions to local peoples needs".
However, without a functioning executive do those in local government really want a greater role?
Rachel Woods is one of three Green Party councillors in Northern Ireland.
She sits on Ards and North Down Borough Council. She said it is a good idea to give local authorities a bigger say.
Ms Woods added that it would only work if there was a "buy in from local businesses and local communities and government departments".
For Green Party activists, the idea of giving local councils a bigger role makes sense.
Brian Smyth is a party member who thinks the plan has much support.
He told the BBC that politics needs to become "more reachable and into the hands of the people" .
North Down MLA Steven Agnew has been party leader for seven years and said he finds the absence of devolution frustrating.
He said it is his "hunch" that power sharing will not return this year.
Mr Agnew added that in the past he was embarrassed at being an MLA without devolution and that he has also sought extra work in anticipation of a pay cut being considered by Secretary of State Karen Bradley.
He said he has no plans to quit politics.
In terms of maintaining their party's profile, Steven Agnew and Clare Bailey, his assembly colleague, know that as a small political group they need the platform that Stormont offers.
The Greens also know that if devolution is not coming back soon, some fresh thinking is desperately needed.
You can see a full report on the Green Party conference on Sunday Politics on BBC One Northern Ireland from 11:00 BST.