Beautician found guilty of hammer attack on Belfast woman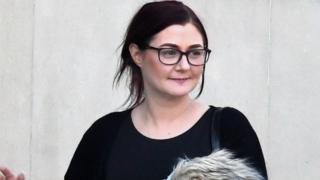 A 37-year-old former beautician has been remanded in custody after being found guilty of blinding another woman in a hammer attack.
The attack happened in north Belfast last year.
Following a trial at Belfast Crown Court, Samantha Goldring, from Tynan Drive in Newtownabbey, was convicted of causing the other woman grievous bodily harm.
She was also convicted of possessing an offensive weapon with intent.
On hearing that Goldring was not applying for bail, the judge said this was "a sensible decision... given the nature of the offence".
The jury of six men and six women heard evidence from both the injured woman - who lost the sight in her left eye in the attack - and from Goldring herself.
The injured woman, who is from north Belfast and in her 20s, told the court she went to Goldring's then home at Enfield Street after being told her boyfriend was there.
'Moment of madness'
She said she first called at around 17:00 BST on Saturday, 8 April, and was told by Goldring that her partner was not there.
After seeing him in the street at around 22:00 BST, the woman followed him to Goldring's house.
In her evidence, the woman told the court: "I went round and rang the door and there was no answer.
'Like a psycho'
"Then I just had a moment of madness. There was a magnet in my pocket. I threw it and put the wee girl's windows in.
"She came flying out like a psycho. I didn't realise she had a hammer in her hand at the time. It was quite a small hammer and I felt a couple of blows to the head, but I didn't go down."
The woman said she sustained several blows and can recall being hit "right in the eyeball", above her eyebrow and along the side of her head.
She said she realised she had been hit with "something heavy", but did not know at the time what it was.
When asked how the incident had left her feeling, the injured woman said: "Well, being a girl and it being on your face, especially with [Goldring] supposed to be a beautician... just a girl doing that to another girl, then having to go through all this, it's ruined my life."
Goldring admitted striking the other woman with a hammer, but when she was called to give evidence, she claimed she initially was not aware she had it in her hand, then only used it in self-defence.
'Frenzied attack'
Claiming she did not know the woman who called at her home was the girlfriend of the man she was drinking and taking cocaine with, Goldring denied she and the man were romantically involved.
Originally from Essex, Goldring told the jury she only used the hammer to prevent a "frenzied attack" on her.
She also said confronting the woman over the smashed window was "the worst decision I ever made".
Explaining that she had a hammer in her hand as she was doing DIY to a skirting board when the woman called at her home the second time, Goldring said that when she opened her door to see what had happened to her window, the other woman came at her "like a Tasmanian devil" and attacked her first.
Goldring said: "She carried on beating me. My fingers ended up in her mouth and she bit down on them and she wouldn't let go. She was trying to bite my fingers off, so I hit her with the hammer."
She admitted striking several blows, and said the incident came to an end when the man came out of her house and split them apart.
The jury deliberated over a two-day period and returned majority guilty verdicts on both charges.
Remanding Golding into custody, the judge allowed time for the compilation of a number of reports ahead of sentencing, which will take place on 8 June.