Farming groups agree post-Brexit policy at Belfast talks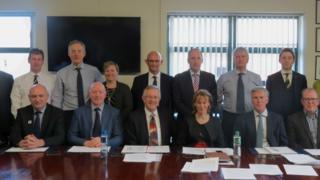 UK farming organisations have agreed a position on post-Brexit agriculture policy after a meeting in Belfast.
They have said a priority is to ensure equal access to the UK's internal market for all producers.
And they say while farm support mechanisms may vary in the devolved nations, the differences should not give anyone a market advantage.
The 15 organisations met at the headquarters of the Ulster Farmers' Union in Belfast.
They want governments in the devolved nations to agree arrangements for managing policy, legislation and regulation.
They said no single devolved region's policy should be allowed to dominate the UK approach to agriculture post Brexit.
And they agreed that neither England, Scotland, Wales nor Northern Ireland should develop rules or policies that might restrict UK access to international markets.
The organisations called for UK wide regulatory frameworks across a range of issues such as animal health and movements; disease control and food labelling.
They have welcomed the UK government's commitment to maintain agriculture spending for the lifetime of this parliament.
And they have called for the same amount of money to be ring-fenced for farmers in the future.