Victims' commissioner says PM's facts 'incorrect'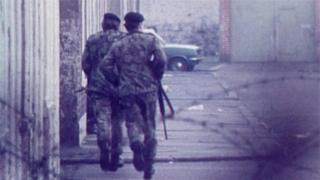 The Northern Ireland Victims' Commissioner says there is no evidence that ex-soldiers have been targeted unfairly by legacy investigations.
Judith Thompson was speaking after the prime minister claimed the system was "unfair".
Theresa May said only people in the "armed forces" or "law enforcement" were being investigated.
On Friday, Ms Thompson said she could only assume that Mrs May was "poorly briefed".
She added that the facts she quoted were "incorrect".
Speaking on BBC Radio Ulster's Inside Politics programme, the victims' commissioner also said some of the prime minister's comments were "completely in contravention of the facts".
In her first interview since the prime minister made her remarks, the commissioner for victims and survivors told the BBC: "There is no evidence that there has been any systematic or unsystematic targeting of state forces."
She was speaking after the government launched a public consultation process on the legacy of the Troubles.
The details, revealed by BBC Northern Ireland on Thursday, include an Historical Investigations Unit with a caseload of 1700 Troubles related deaths, as well as an Independent Commission on Information Retrieval, which must report back to families.
The plans also include an Oral History Archive, which would collect recorded stories about the Troubles in one place.
An Implementation and Reconciliation Group would promote reconciliation and anti-sectarianism.
The legacy consultation process comes after a row within the government this week over the decision to drop plans for a statute of limitations to prevent the prosecution of soldiers involved in killings during the Troubles.
Last year, figures obtained by the BBC challenged claims that investigations into Troubles killings are unduly focused on those committed by the Army.
On Friday, the commissioner said in some of her comments the Prime Minister was "trying to support the implementation of this consultation and support it without a statute of limitations and on those points she was going in the right direction."
However, on the issue of a statue of limitations Judith Thompson was against such a move. She said if it was introduced it would "run counter to accountability, to transparency and to the rule of law".
'Complex legacy'
The victims' commissioner welcomed the consultation launched by the Northern Ireland Office, saying it was "a long time coming" and that it was "for everybody".
She added: "The system, as it exists, cannot and was not designed to deal with the complex legacy of the Troubles and the outstanding 1700 deaths that have not been investigated.
"Families have waited decades for investigations, answers and acknowledgement and there are people dying while they are waiting."
The government's consultation process is due to end in September.
Inside Politics is broadcast on BBC Radio Ulster at 18.05 BST on Friday, 11 May.