UVF killer: Gary Haggarty profile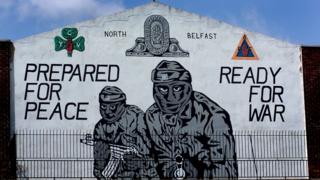 Gary Haggarty was the most senior loyalist ever to become a so-called supergrass.
Haggarty, an ex-commander of the UVF's north Belfast unit, worked as a paid Special Branch informant for 13 years.
In January 2010, he offered to become a supergrass - officially referred to as an assisting offender - and offered to give evidence against other UVF members he said were also involved in the crimes he committed.
In one of the biggest and most complex cases undertaken in Northern Ireland, he was interviewed by detectives more than 1,000 times and the information he gave them ran beyond 12,000 pages.
The extent of his criminal activities is staggering.
As well as pleading guilty to 202 crimes, he asked that 301 others be taken into consideration.
In total he admitted 503 offences, including:
Five murders
Five attempted murders
25 conspiracies to murder
66 charges of possession of firearms and ammunition
Four counts of directing terrorism
Five murders
Haggarty admitted murdering:
Catholic Sean McParland, who was shot while babysitting in Belfast in 1994
John Harbinson, a Protestant, who was handcuffed and beaten to death by a UVF gang on the Mount Vernon estate in north Belfast in May 1997
Catholic workmen Eamon Fox, 44, a father of six, and Gary Convie, 24, a father of one, shot dead as they had lunch together in a car in Belfast's North Queen Street in May 1994
Sean McDermott, a 37-year-old Catholic found shot dead in his car near Antrim in August 1994
He also admitted five attempted murders, including against police officers, 23 counts of conspiracy to murder and directing terrorism.
---
What is a supergrass?
The police bristle at the very mention of the word supergrass, because of its association with a series of high-profile trials in the 1980s.
Hundreds of republicans and loyalists were convicted on the word of informers and suspects who agreed to give evidence in return for reduced sentences, new identities and lives outside Northern Ireland.
Those deals were done at a political level, with the details kept secret.
Technically, those individuals were assisting offenders but they became known as "touts" and "supergrasses" in communities.
The system collapsed in 1985 because of concerns about the credibility of the evidence provided by the supergrasses.
Members of the judiciary complained that they were being used as political tools to implement government security policy.
A change in law in 2005 implemented safeguards for trials of that kind.
---
During thirteen years as an informer he is said to have provided information on:
55 murders
20 attempted murders
56 conspiracies to murder
24 bombing offences
Prosecutors have said Haggarty's evidence is insufficient to provide a reasonable prospect of obtaining a conviction against 11 other suspected UVF members and two former police intelligence officers, allegedly his then handlers.
He has agreed to return to Northern Ireland at a future date to be the star prosecution witness in the trial of a man also accused of murdering the Catholic workmen Gary Convie and Eamon Fox.
Haggarty has already admitted his involvement in the murder of the two men who were shot dead as they ate lunch in a car parked near a building site in Belfast city centre in May 1994.