Máirtín Ó Muilleoir questioned over McElduff Kingsmill tweet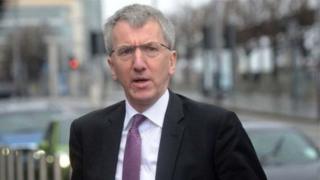 Sinn Féin MLA Máirtín Ó Muilleoir has been questioned by police about retweeting a controversial video clip.
It was posted by former West Tyrone MP Barry McElduff, who posed with a loaf of Kingsmill bread on his head on the 42nd anniversary of the murder of 10 Protestants near Kingsmill village.
A file will now be sent to the Public Prosecution Service.
Mr Ó Muilleoir was heavily criticised by unionists and some victims' relatives for retweeting the video.
Mr McElduff was forced to resign as an MP in January after posting the video.
In a statement to BBC News NI the Police Service of Northern Ireland (PSNI) confirmed that officers "investigating complaints about a video uploaded to social media on 6 January, have interviewed a 58-year-old man."
Detective Chief Superintendent Tim Mairs said: "The man attended Musgrave police station voluntarily on 10th May 2018, by prior arrangement.
"A report will now be prepared for the Public Prosecution Service."
Although police did not name the man Mr Ó Muilleoir has now confirmed he was questioned.
"I can confirm I was invited to attend a short interview with the PSNI on a voluntary basis and was happy to do so," he said.
"I reiterated to the PSNI that I considered Barry McElduff's tweet to be entirely innocent and apolitical and retweeted on that basis."
Mr McElduff faced a barrage of criticism from relatives of the 10 workmen who were murdered in the Kingsmills massacre.
The men were shot dead by the IRA on 6 January 1976 after gunmen stopped their van near the village in County Armagh.
The killers asked if any of the men was a Catholic and instructed him to leave the scene before opening fire on the others.
Mr Ó Muilleoir, a former Finance Minister, also faced calls to resign after he retweeted the video.
He later apologised and told BBC News NI he "would not have tweeted" it if he didn't think it was "wholly innocent".
Mr McElduff said he did not make a connection in his mind between the video and the massacre, but he accepted many people do not believe that.
His resignation was welcomed by the Democratic Unionist Party (DUP) leader Arlene Foster, Ulster Unionist Party leader Robin Swann and Alan Black, who was the only person to survive the attack.
After Mr McElduff stepped down, Sinn Féin Deputy Leader Michelle O'Neill called for Mr Ó Muilleoir to "reflect on what he does on social media".