Foster may appeal High Court ruling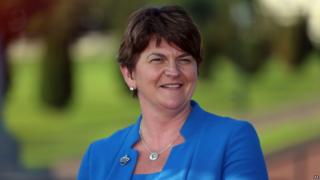 Arlene Foster is considering appealing a ruling that her decision to block funding for the Lord Chief Justice's plan for legacy inquests was unlawful and flawed.
The DUP leader was the first minister at the time she made the decision.
On Thursday, her party colleague, Sir Jeffrey Donaldson told BBC The View Mrs Foster may appeal.
He said the decision is "currently being reviewed in terms of potential for appeal" of the High Court ruling.
It follows a ruling that Mrs Foster was found liable for costs in the case.
In 2016, the Lord Chief Justice Sir Declan Morgan had sought additional funding to complete 54 inquests into 94 deaths within five years.
To do so, he proposed setting up a legacy inquest unit with its own staff and resourcing to deal with Troubles related inquests.
However, the funding was blocked - a decision deemed unlawful and flawed in March of this year.
High Court Judge Sir Paul Girvan said Mrs Foster was wrong to think she could postpone the decision until after political agreement on dealing with the past.
He added that it was unlikely money would have been released if discussed by the executive - which he put down to failings in the paper supplied by the Justice Department.
On Thursday, Sinn Fein's Gerry Kelly said: "The money that should have been released to the Lord Chief Justice, that could have been released any time, has been blocked by the DUP".
However, Jeffrey Donaldson rebuked that claim, stating that the funds had been further delayed as there is "no executive to take the decision to release the funding, so it's going to have to be taken at Westminster."