Strathearn choir in final of Songs of Praise competition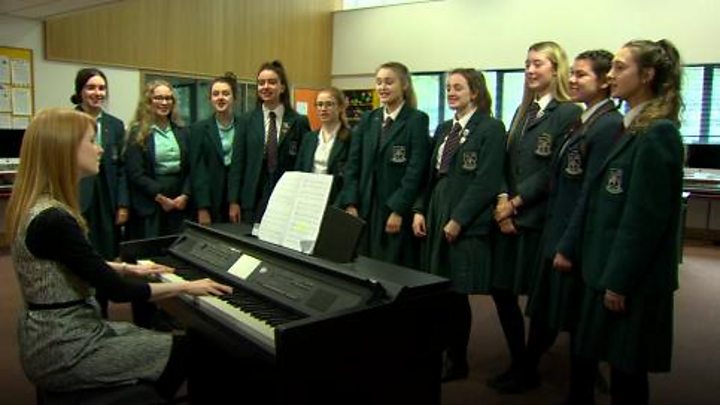 A Belfast school choir is in the running to be named the best young choir in the UK.
The chamber choir from Strathearn school in east Belfast is in the final of the competition run on the BBC programme Songs of Praise.
They are one of only three schools to make it to the senior final, hosted by presenter Aled Jones.
It will be shown on BBC One on Sunday at 14:40 BST.
Their success is doubly impressive as all of the members of the choir are facing GCSE and A-Level exams over the next few weeks.
But choir member Lexi McKechnie, who is about to sit her A-Levels, said she had managed to balance singing with study.
"Mrs McIvor, our music teacher, has tried to make it easy on us by only using lunchtimes, which are times we usually wouldn't be revising anyway," she said.
"I think all the upper sixth members really enjoy chamber choir as it's fun to get together and sing together."
Her fellow singer Ide Simpson, who is about to sit her GCSEs, agreed.
"To me it doesn't really feel like a lot of hard work as it's so much fun," she said.
"We get together three lunchtimes a week and it's really like a break from all of the stress that we would have throughout the day."
However, all of the 23 members took revision to do with them when they travelled to Wales for the Songs of Praise recordings.
Getting to this stage has taken months of hard work, according to music teacher Heather McIvor.
"It's really a culmination of a year's work," she told BBC News NI.
"We start rehearsals in September and you're working on things all the time like your vocal production and your tone.
"Then we were honing in on two specific pieces so really it was six months to get the pieces up to that standard and to get the girls to sing with one voice."
The choir has been performing the songs "Be Still My Soul" and "Get Happy" for the competition.
Sunday's show comes from Bangor in Wales and the judges include former member of the band JLS, JB Gill, and the well-known singing coach Carrie Grant.
'Electric atmosphere'
In the semi-final Strathearn were last choir of three to be told that they had made the final, meaning a nervous wait for Ide and the rest of the pupils.
"I was so nervous when we were waiting to hear the result of the semi-final," she said.
"The atmosphere on stage was just electric"
"Because we were the third choir to get through we weren't sure we were going to get through, but when we did it was amazing."
However, Ide said that she was proud of the choir whatever the result on Sunday.
"We've all come together so well and we've blended and Mrs McIvor has put so much effort in."
"It's such a sense of achievement."