Belfast City Council advertises for Irish language officer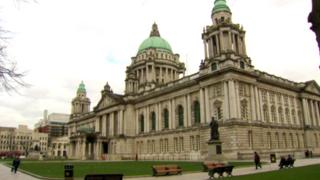 Belfast City Council has advertised for its first dedicated Irish language officer.
The move was agreed by a majority of councillors in October 2017.
A second language officer responsible for Ulster-Scots, sign language and "languages for new communities" is also being appointed.
They will develop and promote their respective languages within the council and to the public.
The posts both carry salaries of between £29,909 and £32,333 per year and are permanent jobs.
Among the Irish language officer's responsibilities is to encourage the use of written and spoken Irish in the Belfast City Council area.
They are also asked to improve access to council information in Irish.
'Political sensitivity required'
The post is being part-funded by Foras na Gaeilge, the cross-border Irish language body.
Both officers are also expected to have "political sensitivity skills," according to the job descriptions.
That is defined as: "The ability to deal with sensitive issues, using political awareness and sensitivity, when working with elected members, senior managers and representatives of outside organisations."
In an amendment which went before council in October 2017, unionist councillors had proposed that one officer for all languages in Belfast be appointed.
However, that proposal was defeated by 33 votes to 20 in favour of two separate language officers.
Lee Reynolds, DUP group leader on Belfast City Council, said his party "haven't accepted the need for the two language officers".
He said: "There was a political decision by the council and that is now being implemented but, on the basis of what was identified as the needs of the language groups in Belfast and how those would best be serviced, we still believe that one officer would have been sufficient and could have addressed the concerns of all the various language communities in Belfast."
But Deidre Hargey, who leads the Sinn Fein councillors, said it was "a good day for the council".
She added: "There's a language framework that has now been agreed, which has Irish language and Ulster Scots policies and also minority policy. It's within the context of rolling out those frameworks that these posts have been created."