Inquiry into recall of 2,500 neurology patients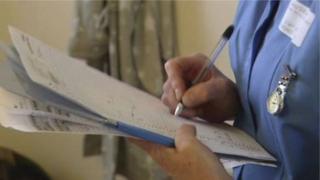 An independent inquiry has been set up to review the recall of more than 2,500 neurology patients by the Belfast Health Trust.
The recall was announced last week after an examination of the work of neurology consultant Dr Michael Watt.
Neurology is the treatment of brain conditions including MS, Parkinson's Disease and Motor Neurone Disease.
The Department of Health announced earlier that the inquiry panel will be chaired by barrister Brett Lockhart QC.
'Earlier intervention'
Concerns about potential misdiagnoses of Dr Watt's patients were formally raised in December 2016 by a GP.
The inquiry will examine the actions taken by the Belfast Trust after concerns were raised and whether or not there were grounds for "earlier intervention".
Melissa McCullough, a non-executive director for the Health and Social Care Board NI, who made an official complaint after Dr Watt incorrectly diagnosed her with multiple sclerosis (MS) instead of neurological Lyme disease in 2010, said on Friday she hoped the inquiry would build "some trust in the system".
"I am just concerned that we get to the bottom of what the issue is, whether it is systemic or not systemic," she told BBC Radio Ulster's Good Morning Ulster.
"Whether the Belfast Trust could have done everything right, we don't know.
"I think that is why the inquiry is so vitally important, because I think that will go some way in helping to understand what went wrong, but hopefully be building some trust in the system."
Louise Skelly, head of operations at Patient and Client Council (Northern Ireland), has welcomed the inquiry and said it was important that the complaints process was in the terms of reference.
"I think it is important that they are looking at how lessons can be learned from this exercise and in particular how lessons can be learned from the complaints process," she said.
"Contrary to popular opinion, people are very reluctant to complain and when they do so they should be reassured that they are listened to, taken seriously, and that lessons are genuinely learned."
Analysis: Marie-Louise Connolly, BBC News NI health correspondent
This inquiry reflects the seriousness of the neurology crisis. It also reflects the differing and conflicting accounts we have been hearing from the public and doctors.
Questions have been raised about patients being misdiagnosed as far back as 10 years ago - and not just in a couple of cases. Questions are also being asked about why the warning signs were not picked up sooner by the Belfast Trust.
Doctors don't work in isolation. Neurology is a speciality where in the health trust just 10 consultants worked together.
There are regular meetings held between specialists especially over complex cases.
Why, it will be asked, were they not aware of concerns regarding Dr Watt? And if and when concerns were raised did management act quickly enough?
Post 2016 and the Harold Shipman Inquiry, the General Medical Council reported that doctors should adhere to a strict annual appraisal system.
That should include doctors being assessed and their caseload reviewed. Problematic cases and any concerns should be discussed and reviewed.
The inquiry panel will endeavour to find out if this was happening. Meanwhile patients will wait.
Department of Health permanent secretary, Richard Pengelly, said: "The focus since last week has rightly been on establishing a robust patient recall process. That remains the first priority.
"However, it is clear that a rigorous review is also required - given the seriousness of the situation and the impact on patients. The public needs to be assured that this issue has been properly and appropriately handled by the trust, and that any lessons for the future are learned."
Some patients included in the major neurology recall say their appointments have been changed at short notice.
The trust said "the vast majority" of appointments will go ahead as planned.
Patients have also said they have not been getting adequate aftercare and counselling after attending recall clinics over the last few days.
The trust said: "We know this is an anxious time for patients and while there are opportunities at clinics to speak to trust staff, we recognise the need to offer additional counselling and we are working hard to address this."
In addition to Thursday's announcement, the Department of Health has asked the Regulation Quality and Improvement Authority (RQIA) to review the records of all patients or former patients of Dr Watt who have died over the past 10 years.
Welcoming the inquiry, the SDLP's Nichola Mallon said: "Patients and their families, and the general public, will be relieved to see that the department has stepped up.
"It is absolutely vital that this review establishes exactly how this was allowed to happen and what changes are required to prevent the possibility of this happening again."