Stormont's hidden history in Dunmurry warehouse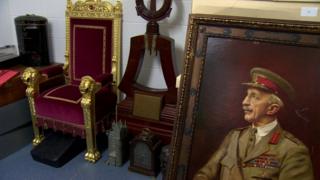 A Dunmurry warehouse has become the unlikely home to much of Northern Ireland's political history.
Portraits of prime ministers, a throne, chandeliers and maybe even the table on which the Act of Union was created, have been locked away since Parliament Buildings was refurbished in 1995.
TUV leader Jim Allister has seen them and says they should be on display.
"There are some remarkable pieces, the tragedy is they've been hidden away," he said.
"These are items that belong to the Northern Irish public because they are the assembly's items.
"Why are they hidden away? Why are we paying £11,000 a year to hide them when there are items here for which there would be considerable public interest in seeing them?"
Possibly the most historically significant find is the table on which the 1801 Act of Union may, or may not, have been drafted.
Political historian Éamon Phoenix said the table was of particular significance.
"If it dates from the very beginning of the 19th century, it's possibly the table which was in Derrymore House outside Newry where the Act of Union, which united the parliaments of Britain and Ireland and gave rise to unionism, was actually signed," he said.
"It was acquired in 1957, we should be able to trace that through the Stormont archives."
A climate-controlled room in the warehouse holds countless works of art which used to hang on the walls of Parliament Buildings.
Dr Phoenix agreed with Mr Allister that the collection should be on display and some of the artwork merited being in the Ulster Museum.
"I think some of the visual material is very captivating," he said.
"You have James Craig, ennobled in 1927 as Viscount Craigavon, wearing among his military medals, because he fought in the Boer War, a kind of tricolour pendant which is interesting.
"Importantly you have Field Marshal Sir Henry Wilson, a southern unionist who was military advisor to the first unionist government and who was assassinated on Michael Collins' orders in London in 1922.
"His death triggered the Irish Civil War."
Mr Allister said he had been campaigning for six years to see the collection.
"A foolish political decision was taken at one time to sanitise Stormont of much of its historical artefacts and hide them away," he told the BBC.
"Are we all so sensitive that we can't look at works of art or artefacts which are part of our history?
"History is a snapshot of time, but it is our history. Parliament Buildings is central to the history of Northern Ireland.
"Museums aren't selective in what they show.
"They show everything, warts and all."
The North Antrim MLA said he would speak to members of the Assembly Commission to see if the pieces could find a more permanent home.
"It's time to bring these matters from under the covers," he said.
"We've plenty of rooms in Stormont - open a display room.
"They shouldn't be hidden away and it shouldn't have taken an MLA six years to get to see them in a warehouse in Dunmurry."
A spokesperson for the assembly said once a new Assembly Commission was appointed it could "consider the merits of an exhibition of artwork at Parliament Buildings".
"While a small number of the artefacts and artwork held by the Assembly Commission are currently in offsite storage, most are either on permanent public display, displayed in other parts of Parliament Buildings or on long term loan to other locations," they added.