Dr Michael Watt patient recall: Appointments changed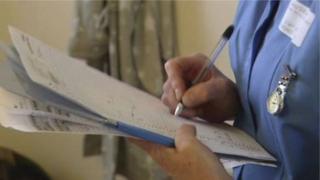 Some patients included in the major neurology recall say their appointments have been changed at short notice.
More than 2,500 patients of the Belfast Trust, including children, are being reassessed following a review of the work of the neurology consultant Dr Michael Watt.
He also had private practices the Ulster Independent and Hillsborough clinics.
The trust said "the vast majority" of appointments will go ahead as planned.
In a statement, the trust said: "Upon reviewing the schedule of appointments it became clear a small number of patients would need to be assessed by a specific neurologist specialising in the patient's particular condition. This is common practice during a recall of patients and we will continue to take steps to ensure all our patients receive the most appropriate care.
"Every effort has been taken to avoid any added anxiety or concern for patients during this recall and, whilst a small number are being asked to reschedule, the vast majority of our patients will attend their scheduled appointments as planned."
Aftercare
Some patients have also said they have not been getting adequate aftercare and counselling after attending recall clinics over the last few days.
The Trust said: "We know this is an anxious time for patients and while there are opportunities at clinics to speak to Trust staff, we recognise the need to offer additional counselling and we are working hard to address this."
Investigation
More than 2,500 of Dr Watt's patients have been recalled following a case review by the Belfast Health and Social Care Trust.
The recall comes amid concerns some patients may have been misdiagnosed.
Conditions have been imposed on Dr Watt by the Medical Practitioners Tribunal Service after a referral by the GMC.