Minister says friendship with McGuiness caused church rift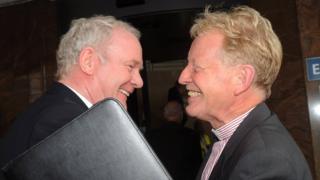 A Presbyterian minister has revealed up to 30 families left his church because of his friendship with former deputy first minister Martin McGuinness.
Rev David Latimer said many of those who left First Derry Presbyterian Church, in Londonderry, had lost loved ones at the hands of the IRA.
He said they could not accept his decision to "reach out" to the former IRA leader.
But he told the BBC's The View that he has no regrets about his friendship.
"There are people who carry heavy burdens because their loved ones were murdered by the IRA and some of those people find it difficult to accept that I, as a church minister, got friendly with an IRA leader," he said.
"Attendances on a Sunday could be 40 or 50 people down on what it was at the peak before I reached out, and that is disappointing, but if I had to do it all over again I would not do it any differently because we cannot live in isolation of each other".
Asking for help
Rev Latimer first met Martin McGuinness more than 10 years ago when he asked him for help in stopping attacks on his church which overlooks the Bogside.
He later addressed the Sinn Fein ard fheis (conference) in Belfast in 2011 and took part in rallies supporting the former deputy first minister when he stood in the Irish presidential election.
Martin McGuinness also addressed the congregation of First Derry Presbyterian Church after refurbishment work on the building
'A big step'
Nine members of the congregation who were also in the security forces were murdered by the IRA.
"It was a big step by Martin McGuinness to come into the church, and it was a big moment for this church to remain seated while he was in the building - nobody walked out," he said.
Rev Latimer said the response of one man that day whose brother - a member of the UDR - was murdered by the IRA has inspired him to keep going.
"That gentleman put his hand out and said to Martin, 'Martin, you spoke very well in church'," he said.
"That man has been very supportive of me and has encouraged me greatly.
"The people who have been hurt the most can exhibit and extend the most compassion and I have been encouraged by members who will say: 'David, keep doing what you are doing because it's the only way forward'."
But Rev Latimer also revealed how he is still receiving angry letters from those opposed to his friendship with Mr McGuinness.
'Dancing on victims' graves'
He said he's been accused of "dancing on victims' graves" and "shaking hands with a man whose hands were stained with blood".
"I could never have appreciated the price you have to pay for engaging in peace would be so high," he said.
"I have only been trying to engage in the type of work the man I follow was involved in."
Meanwhile an RUC widow, who is not a member of Rev Latimer's congregation, but who has criticised him in the past said he should have had more regard for victims of the IRA.
Lorna McGarry, whose husband Spence was killed in an IRA bomb attack 27 years ago in Ballycastle, said: "I think he has to ask himself, 'is this man worthy of his praise?'"
She added: "If you are talking about peace and reconciliation, somebody has to say they are sorry, somebody has to be remorseful. The IRA has never looked back and I think it's time they looked back."
Rev Latimer is celebrating 30 years as minister at First Derry Presbyterian Church and now has a congregation of around 200 - all of whom he says are very supportive.
"They have been very tolerant and I appreciate their willingness to journey with me," he said.
"As Martin used to say, 'it's for our grandchildren we are doing this'."