Sunshine to power NI Water plant in Antrim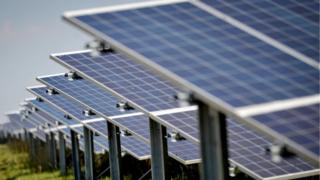 Northern Ireland Water has opened its first solar powered farm.
Costing £7m to build, the farm will provide energy for Dunore Water Treatment Works in South Antrim, one of Northern Ireland's largest treatment plants.
The plant provides water to the greater Belfast and Antrim area.
The solar panels are expected to reduce NI Water's carbon footprint by 2,000 tonnes and it is estimated it will save over £500,000 in energy costs annually.
Situated on a 33-acre site on the eastern shore of Lough Neagh, the project should also offer spare energy to the power grid.
Cutting energy costs
Sarah Venning, chief executive of NI Water, said that since the company is the largest user of electricity in Northern Ireland it is committed to reduce its spending on power.
NI Water has already cut its power costs by £5 million over the last three years, she said.
"The Dunore solar farm is a major step towards reaching our goal of increasing electricity consumption from renewable sources from the current 13% to 40% by 2021," Venning said.
Previously an executive agency in Northern Ireland's former Department for Regional Development (now the Department for Infrastructure), NI Water provides 570 million litres of drinking water and recycles 340 million litres of used water back to the environment.