GMC investigation of neurologist Dr Michael Watt begins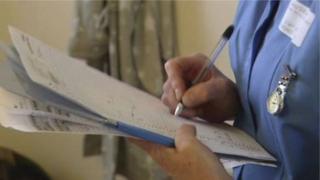 The General Medical Council (GMC) has begun its investigation into consultant neurologist, Dr Michael Watt.
Conditions have been imposed on Dr Watt by the Medical Practitioners Tribunal Service after a referral by the GMC.
More than 2,500 of Dr Watt's patients have been recalled following a case review by the Belfast Health and Social Care Trust.
The recall comes amid concerns some patients may have been misdiagnosed.
The Belfast Health Trust has already restricted Dr Michael Watt's practices.
According to the new restrictions:
Dr Watt should not prescribe disease-modifying therapies for multiple sclerosis patients without prior discussion within, and the approval of, an appropriately constituted trust wide multi-disciplinary team
He must also be closely supervised in all of his posts by a clinical supervisor and must not work as a locum
He is only permitted to work in an NHS post or setting and must notify the GMC of any post he accepts before starting it.
The GMC says these restrictions are a temporary measure while the investigation into his work is ongoing.
On Wednesday, Department of Health Permanent Secretary, Richard Pengelly, said he had talked to representatives of the Ulster Independent Clinic and Hillsborough Private Clinic, which both have links to Dr Watt.
"I was very pleased to receive assurances from both organisations that they are focussed on rapidly identifying the active patient list in respect of Dr Watt's practice with them," he said.
"Both Hillsborough Private Clinic and the Ulster Independent Clinic gave us an assurance that they will endeavour to ensure that all their patients are reviewed within the same 12 week target timescale established by Belfast Trust for its patients.
"For our part, I assured both organisations that in the event they have any difficulty achieving this target, we will work with them to offer whatever assistance we can."