'Regrettable delay' in children's surgery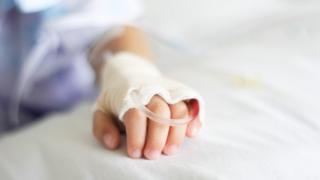 The Southern Health Trust has apologised for "a regrettable delay" in providing paediatric surgery.
The Trust did not give a figure for the number of operations delayed, but the BBC understands that as many as 100 families have been affected.
The problems have occurred at Craigavon Area Hospital and Daisy Hill in Newry.
A spokeswoman for the trust said both hospitals have adopted new ways of working which has meant changes in the way services are provided.
"Although children's emergency surgery has continued as normal, our children's theatres have not yet been running at full capacity," she said.
She said children's surgery would be fully operational again by the start of June and that patients would be contacted about surgery dates.
'Heard nothing'
Some parents, however, are angry that they have not been kept informed despite lengthy delays in their children's treatment.
Philippa Dougan-Toal's five-year-old daughter, Amelia, is due to have surgery. Her mother was told her case was "urgent".
"One of Amelia's tonsils is swollen," she said.
"She's in a lot of pain and was due to have them removed.
"After they're removed, they are to be biopsied.
"We were told from the day we went to our GP that her case was urgent. Obviously, as a parent, you hear mention of a biopsy and that's all you can think of.
"We were told we'd hear straight after Easter, by late April, we'd still heard nothing.
"We rang and all the person we spoke to could tell us was that paediatric operations weren't being done.
"That was it. There was no explanation and no indication of when the operation would be done.
"It's just heaping more stress onto an already stressful situation. It's the total lack of information that's been hard to take."
The trust spokesperson said: "We are very sorry for any distress or inconvenience that has been caused. In the meantime, anyone who is concerned should contact 02837562495 for advice and information."