Principals' association calls for school funding review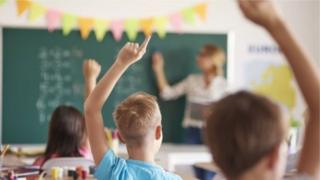 The union which represents many head teachers in Northern Ireland wants a "comprehensive" review of the way schools are funded.
The call comes from the National Association of Head Teachers (NAHT).
It surveyed more than 180 principals and vice-principals.
More than half of those who responded said they were unhappy with the support given to schools in a number of key areas, including maintenance.
One principal claimed it had cost £70 to have one screw put into the floor to keep a toilet in place.
Many of the support services for schools are provided centrally by employers like the Education Authority (EA) and Council for Catholic Maintained Schools (CCMS).
'On the cheap'
These include support for children with Special Education Needs (SEN), finance, maintenance and teacher recruitment.
A survey was carried out by the NAHT (NI) into a number of these areas in March 2018.
It asked principals a series of questions about how happy they were with services that were provided to their schools.
"The survey found low levels of satisfaction in all areas," the final report said.
For instance, almost three-quarters (73%) of those who responded said support for children with SEN was poor or needed improvement.
"The area of SEN appears to be hugely under-resourced," one respondent said.
"The situation appears to be worsening.
"There is a worrying pattern of SEN services being 'farmed out' to schools 'on the cheap'."
Many principals in mainstream schools also said they had difficulty getting proper support for children with SEN.
Meanwhile, almost three-quarters (72%) said that maintenance work to their school was poor or not value for money.
"It recently cost my school £70 to have one screw put into the floor to keep a toilet in place," one reported.
'Budget crisis'
"£121 to replace two bolts in a return hinge on a front door," another claimed.
Many principals also said that it was taking longer for maintenance issues to be resolved.
"Schools in Northern Ireland are currently facing a budget crisis," the final survey report also said.
"Bigger class sizes, subject cuts and redundancies with ultimately the education of children suffering as a result were seen as potential, inevitable consequences."
More than half of principals surveyed (57%) also said they received inadequate advice when facing complaints or accusations of bullying.
As a result of their findings the report's authors put forward 40 recommendations for change in the way services are provided for schools, including asking for school leaders to be given greater control over their own budgets.
"We are calling for a comprehensive, transparent review of - and structural changes to - the current funding arrangements in education in order to tackle inefficiencies by centralised services and ensure that money goes to the front line to meet the individual needs of each child," they said.