Child funerals: councils vote to waive costs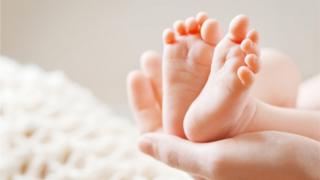 Two more councils in Northern Ireland - Mid and East Antrim Council and Newry, Mourne and Down Council - have voted to waive burial costs for children.
The move comes after similar motions in Belfast City Council and Armagh, Banbridge and Craigavon Council.
In England, the cost of a child's funeral is waived under a scheme introduced in March.
In 2016, there were almost 200 stillbirths and infant deaths registered in NI.
In April, Armagh, Banbridge and Craigavon Council voted unanimously in favour of waiving part of the burial fee for grieving parents in the district who have lost a child.
It will now cover the £52 cost of opening a grave at all council-owned cemeteries.
At Belfast City Council last Tuesday a similar move was proposed and supported by all councillors.
The original proposal was brought by UUP councillor Julie Flaherty, who herself lost a child - her two-year-old son Jake - in 2015.
The motion at Mid and East Antrim Council was brought by the UUP's Stephen Nicholl.
He said that in the absence of Stormont a Children's Funeral Fund "cannot be introduced regionally".
"We can resolve this until the introduction of a regional initiative," he added.
The motion was supported unanimously and it was agreed that the council would waive all costs normally associated with the provision of a grave for children under 18 years of age.
Mayor of Mid and East Antrim Councillor Paul Reid said: "Nobody should be denied the right to bury their own child in a dignified and proper way.
"Parents who have lost a child are already facing tragic circumstances and the burden and process of cost shouldn't be another."