RHI Inquiry: 'Buck stops with me' says auditor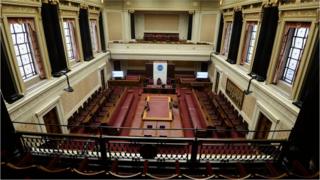 The chief auditor in the department in charge of RHI has been thanked for saying she accepts responsibility for a failure to spot flaws in the scheme.
Elaine Dolan told the RHI inquiry that as head of the internal audit, the buck stopped with her.
An audit in 2014 failed to pick up governance issues in the department.
As Ms Dolan concluded her evidence, panel member Dame Una O'Brien thanked her for accepting responsibility for failures of the audit process.
She said her frank acknowledgement was an example of words heard "too infrequently so far in this inquiry".
"I appreciate that it takes a lot given the nature of your work for you to have come and said that and thank you for being so frank with the inquiry."
The 2014 audit was carried out by an outside accountancy firm hired to help the Enterprise department.
Ms Dolan said as the department had retained the "quality control function" for its work, she was ultimately responsible.
Control expectations
The auditor who conducted the review accepted assurances from officials in the Energy division that the Office of Gas and Electricity Markets (OFGEM), which was administering the scheme, was responsible for it.
Ms Dolan said as a result they'd "walked away from the audit with the expectation that there were limited controls and monitoring arrangements that the department should have in place".
The audit reported "no issues" with RHI.
Ms Dolan said she would have expected it to establish whether there was an oversight board; a senior person responsible for the scheme; a risk register and a project plan.
A subsequent audit of the scheme in 2016 found a range of problems - some of them rooted in the fact that there was no formal project management arrangement.
Ms Dolan said she agreed with the findings of the 2016 report.
She suggested that "no professional scepticism" had been applied to the earlier assurances about OFGEM's oversight.
Earlier on Tuesday, Ms Dolan had said that it was not the auditors' responsibility to spot problems in the flawed scheme.
But Dame Una, an ex-senior civil servant, said she would have regarded the unit as her "eyes and ears" spotting potential pitfalls.
Ran out of control
Ms Dolan said her focus in 2014 had been risks associated with telecoms schemes being run by the department.
She went on a career break later that year but said, had she remained, she would have turned her attention to energy schemes in 2015.
Sir Patrick Coghlin commented that "unfortunately that was a bit late".
Later Ms Dolan said allegations of fraud by concerned businesswoman Janette O'Hagan should have been referred to internal audit.
Mrs O'Hagan contacted departmental officials on several occasions to allege abuse of the scheme.
She said she was not believed.
Ms Dolan said those allegations should have been referred to her team and would have led to an investigation.