Brexit sees Irish software firm create 85 jobs in Belfast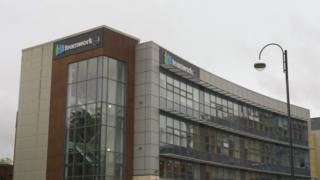 An Irish software company is opening an office in Belfast - creating 85 new jobs - as part of its planning for Brexit.
Cork-based Teamwork.com said the move would protect access to the UK market if there is no free trade deal.
The company's clients include Netflix, Disney and Spotify.
It said: "Being in Northern Ireland will ensure we can tap into the great talent pool on offer and access the UK market in the future."
The jobs will pay combined salaries of £3.2m and Invest NI is offering £680,000 in grant support.
It is not the first company to 'future-proof' its business against a no deal or hard Brexit scenario.
Pharmaceutical giant Almac, headquartered in Craigavon, last year bought plants in Ireland to safeguard EU market access should future regulations make trade more difficult.
Teamwork.com currently employs 200 people and its Belfast office will be its largest outside Cork.
Fifty-five of the posts will be for developers and 30 others in technical support.
"Our software development sector has gone from strength to strength," said Invest NI chief executive Alastair Hamilton.
"In the last five years, 30 companies have chosen to set up dedicated software development centres here."