Former DUP Health Minister Jim Wells loses party whip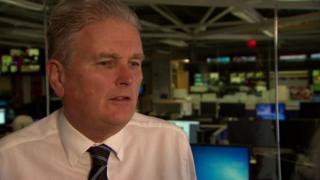 The former DUP Health Minister Jim Wells has lost the party whip after he criticised the leadership in the media.
Jim Wells stood down in 2015 saying that he was falsely accused of linking child abuse to same-sex marriage.
He already said he expected to face disciplinary action after claiming the party went back on a promise to re-instate him after he stood down.
As there is currently no sitting Assembly at Stormont, the sanction would appear to have limited effect.
But it does leave Stormont's biggest party with no voice on the Assembly Commission, the body which continues to meet and has responsibility for pay and pensions of MLAs.
Members of the Commission also receive an extra £6,000 a year.
Mr Wells is the DUP representative on the Commission.
The only way he can be removed is for a meeting of the Assembly to be convened and for a resolution to be passed.
It is understood that he has no intention of stepping down in the meantime.