Statute of limitations withdrawal not a surprise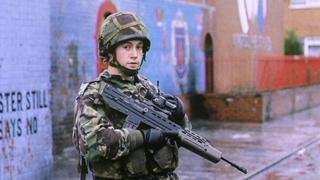 The fact that a proposed statute of limitations to prevent the prosecution of former soldiers who served in Northern Ireland during the Troubles has been withdrawn from a planned consultation on how to deal with the past is not a surprise.
It would have been a surprise if the government had decided to go ahead with the plan outlined by James Brokenshire when he was Secretary of State.
The idea is backed by many conservative back-benchers, including some who are themselves former soldiers.
But many unionists in Northern Ireland are concerned that such a move could open the door to a de facto amnesty for former republican and loyalist paramilitaries.
The proposal was put on the table in a report last year by the House of Commons Defence Select Committee.
It said there should be a statute of limitations for former soldiers and RUC officers involved in killings during the Troubles.
But such a move would be open to legal challenge.
Even the committee's own report noted that legal advice it received was that any such statute could not be restricted to former members of the security forces.
The DUP has been championing the cause of those former members of the security forces.
A number of its MPs, including Sir Jeffrey Donaldson and Gavin Robinson, have spoken in favour of a statute of limitations.
But party leader Arlene Foster quickly expressed concern when James Brokenshire indicated that a question on a possible statute of limitations would form part of any consultation on how to deal with the past.
She told the BBC the DUP had not been pushing for an amnesty, and said the idea had more support among Conservative back-benchers than unionists.
The DUP leader said she was concerned that any de facto amnesty for members of the security forces could raise the prospect that it would have to include republicans and loyalists.