Ambulance and a lorry crash with patient inside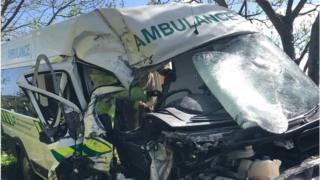 Two ambulance service crew members and a patient have been involved in a crash in County Down.
The accident happened on Tuesday when an ambulance collided with a lorry on the Portaferry Road.
The Northern Ireland Ambulance Service (NIAS) said it was responding to a routine patient call out at the time of the crash.
All involved, including the lorry driver, were taken to the Ulster Hospital in Dundonald.
None had life threatening injuries.
One rapid response paramedic, one paramedic officer and three emergency ambulance crews were dispatched to the incident.
The Charity Air Ambulance was also sent to the scene.
The NIAS said on its Twitter account that it was "grateful" that there were no fatalities.
"NIAS attend approx 4500 - 5000 Road Traffic incidents every year. Our vehicles cover over 7 million miles a year," said the tweet.
"It's probably amazing that we are not involved in more accidents but when we see photos like this, we are just grateful that everyone came out of this alive today."