Police find 'viable explosive device' in Lurgan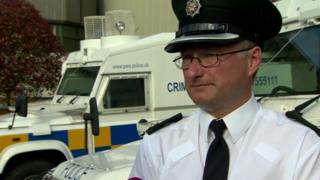 Police have discovered a "viable explosive device" and a firearm following searches in Lurgan.
The operation took place in the Tarry Drive area of the County Armagh town.
A number of residents had to be moved from their homes during the search, including children attending a nearby playgroup.
Police said the device could have caused death or serious injury and an investigation by the Serious Crime Branch is currently underway.
PSNI Superintendent David Moore said: "There is no doubt that this device was intended to harm police officers, however, its placement and the manner in which it was left undoubtedly mean that had it detonated, it would almost certainly have caused death or serious injury.
"Working together with the local community, this particular act of potentially lethal recklessness has been brought to an end. Police say the device was made safe before being removed for forensic examination along with the firearm."
Security operations
Supt Moore added: "As a police service we will not be deterred by such acts nor by the small number of individuals behind them.
"We will keep doing our job, keeping people safe and tackling the things people in Lurgan are demanding we tackle - burglary, anti-social behaviour and drug dealing.
The latest incident follows a number of security operations in Lurgan in recent weeks including the recovery of guns and bomb-making material.
Sinn Féin Councillor Keith Haughian said the incident showed disregard for the local community.
He said: "The placing of such a potentially lethal device in such close proximity to the nearby play park, which is so extensively used by children and families in the area, is madness.
"Those responsible have nothing to offer the community and they should leave the stage immediately."
DUP Upper Bann MLA Carla Lockhart said: "I would appeal for anyone with information to assist the police in bringing to justice those responsible for putting lives in danger.
"Lurgan is a great place to live, work and do business and there is no room for this type of activity. People do not support it and want these people to face the full force of the law."