Vaginal mesh: Surgeons 'failed to comply with guidelines'
By Marie-Louise Connolly
BBC News NI Health Correspondent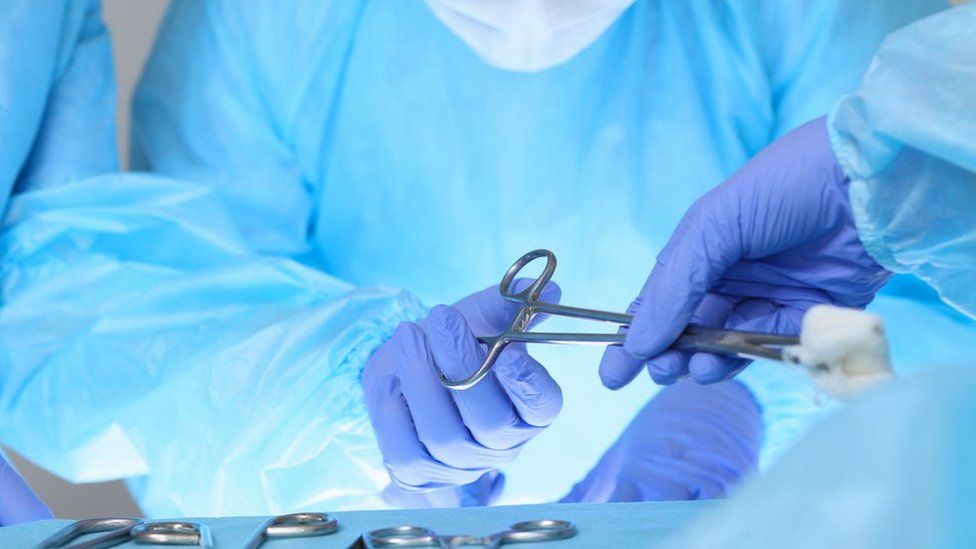 A review of vaginal mesh surgeries in NI has found most surgeons failed to keep to guidelines on how many operations they carried out each year.
The audit looked at 340 patients who had the mid-urethral tape procedure in 2013 to treat urinary incontinence.
But some can cut into the vagina causing severe discomfort.
The regional audit found that 78% of surgeons did not meet the required 20 annual surgeries as required by the National Institute for Health and Care Excellence (NICE), with 15% performing fewer than five operations.
The audit was led by Dr Robin Ashe, a leading gynaecologist in Northern Ireland.
It considered a number of factors including pre-operative care, consent, and surgical workload.
80% of women reported an overall improvement of stress incontinence symptoms following their surgery
A high level of input by senior medical staff, with 86% of procedures undertaken by a consultant or specialty doctor
The quality of information given to women during the consent process was variable
Among the audit's seven recommendations to improve performance and outcomes for patients. These include:
Health and social care trusts must ensure that pre-operative care is conducted in line with the National Institute for Health and Care Excellence (NICE) guidance.
Consent for surgery should be in line with best practice
Surgery should be undertaken by trained practitioners, who conduct at least 20 procedures each year
Repeat surgery for stress urinary incontinence should be undertaken within a setting that provides specialised consultant care
Data should be submitted to a recognised national audit to facilitate monitoring of results