DUP-Tory deal: Cash to improve GP services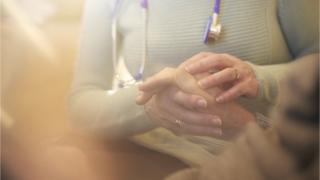 The Department of Health has revealed how it plans to spend £70m set aside for transforming the health service.
The money comes from the £100m transformation fund - part of the DUP's confidence and supply agreement with the Conservative government.
Primary care will get a £15m boost.
Of this, £5m will go towards GP practices. It is planned that physiotherapists, mental health specialists and social workers will work with doctors and nurses.
The aim is to help provide more care close to people's homes and to ease pressure on hospitals.
The multi-disciplinary teams will be rolled out in two pilot areas this year - the eventual target is that they will be extended to all GP surgeries in Northern Ireland.
Analysis by Marie-Louise Connolly
BBC News NI Health Correspondent
Any additional money for the health service is good news. Small steps accompanied by small pots of cash can help begin changing systems which can make a big difference to people's lives.
This announcement means money for GPs who are the gateway to Northern Ireland's health care system.
£5 million will go specifically towards funding two pilot projects possibly based in areas of acute deprivation. Those areas have yet to be agreed.
That funding will pay for multi disciplinary teams such as speech therapists, dermatologists and physiotherapists to be based under one roof.
This will build on the idea that health in the community should be provided as a one-stop shop. While convenient and cost effective, it also keeps the public away from hospitals which are expensive to run.
All sounds good but this money is a one-off cash injection. The pilots will have to prove that they work, that they are cost effective and should be funded long term .
Money saved from hospitals could then be transferred to community care instead. This is what Professor Bengoa outlined in his review.
This is the beginning but the challenge will be ensuring that the idea and the pilots don't come to an abrupt end.
Further details on how the £70m is to be spent include:
Up to £30m for reforming community and hospital services, including mental health and pharmacy
£15m for workforce development
£5m towards enabling transformation, including spend on technology
£5m towards communities and prevention - including a big investment in children's social services and looked-after children as well as building up links with the community sector on key issues
Earlier this year the department announced that £30m was to be spent tackling Northern Ireland's hospital waiting lists.
The former Chief Executive of the Health and Social Care Board in Northern Ireland John Compton said the investment was good news, welcoming the emphasis on primary care.
"Most of us receive our health and social care in primary care with our general practitioner or in community services," he said.
Mr Compton said the investment was the equivalent of 125 jobs but it would take about three months to fill those roles.
Dr David Johnston is a GP working in Cullybackey and Ahoghill in County Antrim, he said the cash investment was "very good news".
"This is really seed funding, it's £5m, which in the grand scheme of things is not a huge amount of money but it will allow some experimentation.
"The vision now is that more and more care is delivered, not in hospitals where care is most expensive, but in the community," he added.