Belfast group passes £1bn annual turnover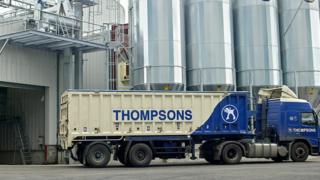 The Belfast-based commodities and manufacturing group, W&R Barnett, has seen annual turnover pass £1bn for the first time in 2017.
The group made a pre-tax profit of £47m which was up by 30% compared to the £36m achieved in 2016.
Barnett's best known local division is Thompsons animals feeds, based on a prominent site in Belfast.
The group also trades in grains, oils and sugar, operates port facilities and manufactures packaging products.
Employs 1,500 people
The packaging business has expanded in recent years through a series of acquisitions.
In 2016 Barnett's bought Boxshop, a Scottish cardboard manufacturer for £13m.
In 2017 that acquisition contributed almost £14m to turnover and £872,000 to operating profits.
Barnett's now employs around 1,500 people across its global operation.
The business is controlled by Robert Barnett and his family.