Boy in court after drill attack on woman in Strabane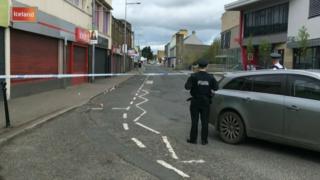 A teenager has appeared in court accused of causing grievous bodily harm with intent, after a woman was attacked with a cordless drill in Strabane.
The 17-year-old boy spoke only to confirm his name, which cannot be reported because of his age.
The incident happened in Railway Street in Strabane in the early hours of Saturday.
Omagh Magistrates Court was told it is being treated as a hate crime.
A detective constable told the court a police patrol had been flagged down in Railway Street.
Hole in skull
They found a woman injured with blood coming from her head and lapsing in and out of consciousness. She was also having fits and seizures.
She told police she believed she had been attacked because of her sexuality.
The court heard the injury to her head has not been confirmed as being caused by either blunt force or a drill bit.
The woman told police she had heard the noise of a drill and then her head was twisted, as she described it.
The injury is described as some form of hole in the skull, which does not appear to be deep, but was initially thought to be life-threatening.
The drill was recovered but no drill bit was found in it.
'Pointing drill at friends'
CCTV footage from a nightclub and the street outside show the teenager in "high spirits", playing with the drill and pointing it at friends like a gun, the detective constable said.
The court heard the teenager, when interviewed, had no recollection of how he came to be in possession of a drill.
He had been very drunk and said he had been drinking from three or four o'clock in the afternoon.
A solicitor for the teenager said he had a "scant" previous record.
The detective constable said it was necessary to remand the teenager for his and the public's protection, given the press attention the incident had garnered locally, nationally and further afield, although he acknowledged there was no intelligence a threat actually existed.
District Judge Peter King said it was a "grossly violent, inexplicably violent incident" with what was initially thought to be life-threatening injuries.
He said the public protection element was sufficient to remand the teenager in custody.
He will appear again by videolink in Strabane on Friday 18 May.
The teenager cried and hugged relatives before being taken out of the court.