Cliftonville players bow heads during anthem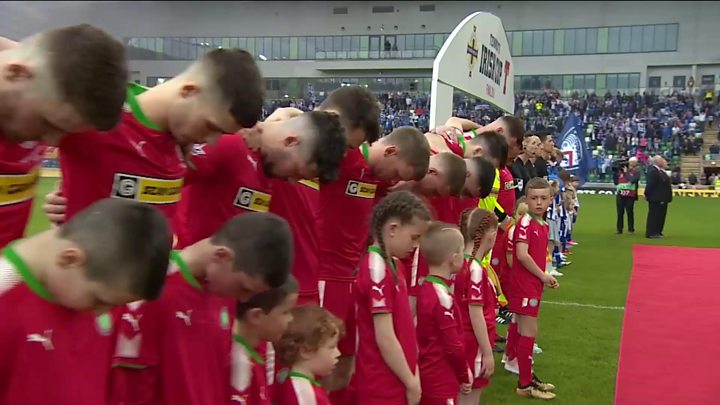 Cliftonville players bowed their heads during the playing of the National Anthem before the start of the Irish Cup Final on Saturday.
On Friday, the Irish Football Association turned down a call from Cliftonville not to play the anthem before the final against Coleraine.
Cliftonville's support predominantly comes from the nationalist community.
In 2013, the anthem was dropped from the Irish Cup final between Cliftonville and Glentoran.
At the time the IFA said it wanted to foster a "politically neutral environment" for the game.
On Friday the IFA said it had received a written request from Cliftonville.
"The members expressed sympathy for Cliftonville's position but decided the current board policy, agreed in August 2013 should stand," said the statement.
The statement added that the IFA board had "committed to conducting a future stakeholder review of the issue".
In response, Cliftonville said that they "noted" the IFA statement following the "decision of the majority of the IFA Board" and would be making no further comment on the issue until after Saturday's final.
Coleraine beat Cliftonville 3-1 in the final at Belfast's Windsor Park to secure a sixth Irish Cup success .