Belfast International Airport apologises over security delays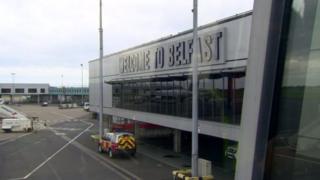 Belfast International Airport has apologised to passengers who faced delays going through the security search area on Saturday morning.
The airport has said it is working urgently with its security contractor to address the issues.
Passengers are being advised to allow plenty of time to travel through the airport.
Colette Morris from Carryduff said she missed her flight to Liverpool and was now making plans to go via Dublin.
"We were faced when we arrived at the airport with queues of people out the door," she told BBC Radio Ulster on Saturday morning.
"People were queued right down the steps.
"There was no information, we were originally told the flights would wait for us.
"We had left adequate time, we had an hour and fifteen minutes before our flight, we were already checked in, but we did not make it.
"I am now en route to Dublin to try to get to our destination which is Liverpool."
Earlier this week, Belfast International Airport urged passengers "to allow two hours to process through Central Search before heading to Airside departure gates".
Its head of security, Nabeel Gill, said it was "dealing with unprecedented numbers at the airport, which means it will take extra time to reach departure gates".
"We will be doing all we can to accommodate passengers during what will be the busiest summer ever," he said
"We don't want passengers missing flights and being disappointed, which is why we are saying to please leave plenty of time."