Bernard McGinley was shot in Newtownbutler with 'stick gun'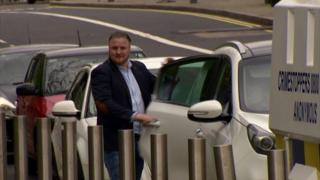 Belfast Crown court has been told that a 63-year-old man was killed at a wedding in County Fermanagh with a home-made "pipe" or "stick gun".
Bernard McGinley from Longford was shot when he arrived at the wedding of his niece in Newtownbutler three years ago.
His nephew, 49-year-old Patrick McGinley, has admitted a charge of manslaughter.
Patrick McGinley's son William, 29, has pleaded guilty to wounding with intent.
Another Patrick McGinley, 24, from Lisfarrell, Edgeworthstown, County Longford, and a youth, who cannot be named due to his age, have admitted lesser charges in connection with the killing in February 2015.
In a pre-sentencing hearing, a prosecution barrister said there was a dispute over who had brought the gun to the wedding, and he said the gun's only possible purpose was as an offensive weapon.
The court was told there was a history of "ill feeling" between the families, both from the traveller community.
It was said the trouble broke out when some people objected to Bernard McGinley arriving as a guest at the wedding.
In what was described as a "melee", he was shot in the lower chest and abdomen. He died later in hospital.
The main defendant Patrick McGinley is said to have gone to the police by arrangement and as part of his bail conditions has had to live in Irvinestown, County Fermanagh, apart from his family who live in the Republic of Ireland.
Dozens of supporters from both families were in court today amid a heavy police presence.
The men were due to be sentenced on Friday afternoon but a judge heard from prosecution and defence lawyers about both aggravating and mitigating factors.
None of the four accused has a criminal record and barristers said they expressed remorse and regret about the killing.
The men are due to be sentenced next Friday.