LacPatrick Dairies fined £5,000 for polluting waterway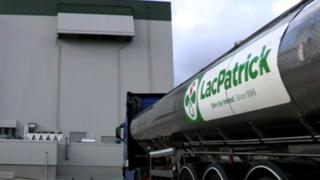 A leading dairy co-operative has been fined £5,000 for polluting a waterway.
LacPatrick Dairies (NI) pleaded guilty to four offences on dates between July 2015 and April 2016 at a site at Cloyfin Road, Coleraine.
Officials who examined an inspection chamber of an anaerobic digester found grey fungus and detected the odour of silage.
The chamber was found to be connected to a nearby waterway. In November 2015 officials spoke to the chief executive.
He explained there had been changes to the legal name and ownership of the then Ballyrashane Co-op Company to LacPatrick following a merger.
Further pollution was detected in April 2016. It was established that the ongoing problem was the result of defective silage storage on site.
The four offences resulted in one fine of £2,000 and three of £1,000.
The maximum fine for each offence is £10,000 under sentencing guidelines.
Ballyrashane Co-op Company changed its name to Ballyrashane Creamery Ltd in September 2015.
In January 2016 it became LacPatrick Dairies (NI) Ltd following the merger with Town of Monaghan Co-operative and Dairy Society Ltd.
The anaerobic digester was opened in 2012. It uses dairy waste, silage and slurry to generate biogas.
It in turn is used to power and heat the processing plant at the site.
In a statement, LackPatrick Dairies (NI) Ltd said it acknowledged the ruling and said it was "critical to note there was no damage to fish or human health as a result of these accepted breaches".
It said at the Ballyrashane site, it had made "huge efforts to address any shortfalls".
It added that it was committed to and has planned capital investment into "rebuilding existing silage clamps".
It said ensuring "that the strictest environmental standards are upheld" at all of its sites "is a critical aspect of the co-op".