Kilclooney admits 'typical Indian' tweet mistake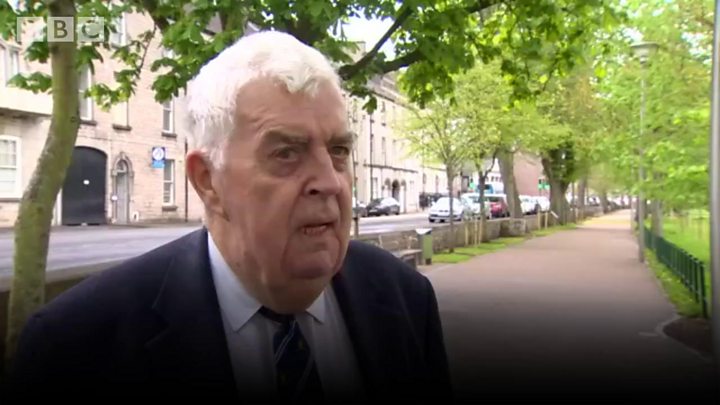 Lord Kilclooney has deleted a tweet in which he called Taoiseach (Irish Prime Minister) Leo Varadkar a "typical Indian" and admitted it was a mistake.
The former Ulster Unionist Party deputy leader said he realised it may have caused offence to some people.
However, he did not apologise for his remark and said he will keep tweeting.
Asked if he accepted that many people regarded his tweet as racist, the peer replied: "Absolutely, I can understand them reaching that conclusion.
"And that's why I removed it, but I'm certainly not racist at all."
'I'm not apologising'
Mr Varadkar was born in the Republic of Ireland to an Irish mother and an Indian father.
He was elected taoiseach (Irish prime minster) in June 2017.
When BBC News NI asked Lord Kilclooney if he would now apologise to Mr Varadkar, the peer replied: "It was a mistake and that's why I did away with it."
When pressed on the matter, he said: "I'm not apologising. I have removed the tweet because it was a mistake."
'Poor manners'
The peer dismissed allegations of racism and insisted he was "pro-Indian".
"I have worked for the Indian community in London and throughout the United Kingdom, I have a great admiration for them."
Lord Kilclooney posted the "typical Indian" tweet in response to controversy over Mr Varadkar's visit to Northern Ireland on Monday.
The taoiseach had been accused of "poor manners" by a Democratic Unionist Party MP, who claimed Mr Varadkar had failed to notify local representatives in advance of his trip.
However, it later emerged that Mr Varadkar had informed the Northern Ireland Office of his plans, and the NIO confirmed he had followed all protocol.
'Typical Englishman'
Speaking in Armagh on Friday, Lord Kilclooney told BBC News NI: "I worked on the premise that Varadkar had come across into the United Kingdom without giving advance notice - that was what was on the media.
"Then I discovered subsequently that he did give proper advance notice, so I removed the tweet.
"If he had been an Englishman, I'd have said 'typical Englishman' because the English have no understanding of the internal affairs of Northern Ireland. I've discovered that from my experience in London.
"Indians wouldn't have much understanding either; Pakistanis no understanding - typical.
"I can understand people outside Northern Ireland not understanding the political situation here. As far as being anti-Indian? Ridiculous."
Addressing the social media controversy in the Dáil (Irish Parliament) on Tuesday, Mr Varadkar said at first he thought someone was impersonating Lord Kilclooney on Twitter.
"I actually had thought that was a parody account but seemingly it's not - it actually is for real. And that's all I'll say about that," he said.
'Upset and misunderstanding'
It is not the first time Lord Kilclooney has caused controversy by referring to Mr Varadkar's Indian heritage.
Last November, after Irish Foreign Minister Simon Coveney said he wanted to see a united Ireland within his lifetime, Lord Kilclooney tweeted that Mr Coveney was "hoping to undermine the Indian".
He was widely criticised, and after initially defending the tweet, the peer then withdrew it, acknowledging it had "caused upset and misunderstanding".
"I am no way racist and accept that Varadkar is 100 percent Irish Citizen," he wrote at the time.
On Friday, Lord Kilclooney was asked if he had learned any lessons from the latest controversy, and if any of his friends or family had advised him to stop using Twitter.
The peer replied he had learned that there were lots of "nasty" and "foul-mouthed" people around and claimed Twitter "brings out the worst of some people".
However, he said no-one had advised him to stop using his account, adding that many people congratulated him on his tweets and admired his "independence of thought".
The peer insisted he had no intention of giving up Twitter.