Protestant church leaders urge Pope to visit NI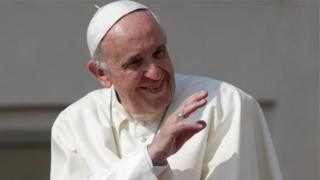 The leaders of the Protestant churches in Ireland have written to Pope Francis telling him he would help peace if he visited Northern Ireland.
Pope Francis is due to visit Dublin for the world meeting of families in August.
There are currently no plans for the pontiff to cross the border.
However, in a letter to the Pope the four church leaders said he could promote "peace and reconciliation" by coming to Northern Ireland.
The letter was sent in December 2017 and has been obtained by the Irish Catholic newspaper.
It was signed by the Church of Ireland Primate, Archbishop Richard Clarke; the Presbyterian Moderator, Dr Noble McNeely; the Methodist President, Dr Lawrence Graham and the President of the Irish Council of Churches, Bishop John McDowell.
"We know that members of the Catholic church, both north and south of the border, will be greatly encouraged if these visits were to come about," they wrote.
'Peace and reconciliation'
"The potential that a visit to Northern Ireland could have in promoting the cause of peace and reconciliation throughout this island cannot be underestimated."
In a statement to BBC News NI, Archbishop Richard Clarke said: "While a visit to Northern Ireland is clearly a matter for the Pope himself to decide upon, I am happy to reiterate that I would welcome it - both as an encouragement to members of the Catholic Church and for its potential in promoting peace and reconciliation throughout the island of Ireland."
However, there has been some opposition to the church leaders' move.
Wallace Thompson from the Evangelical Protestant Society said that there were deep doctrinal differences between the Protestant churches and the Roman Catholic church.
"I'm all for reconciliation within our community," he said.
"But I'm not really sure why they're so keen to bring him up to Northern Ireland other than to forward their own ecumenical agenda.
Massive crowds
"Within their own churches I know, from my own experience, that there are many evangelicals who would share my views.
"So they're not speaking for all of their own congregations."
The last pope to visit the Republic of Ireland was Pope John Paul II. He drew crowds of over 2.5m at a number of locations - more than half the state's population - in 1979.