Clinic has 'sought advice' on accessing patient records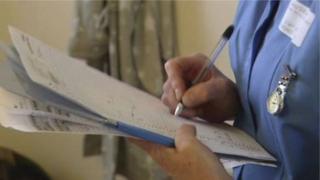 The Ulster Independent Clinic has revealed that it has not yet been able to access patient records of neurology consultant Dr Michael Watt.
More than 2,500 of Dr Watt's patients have been recalled following a case review by the Belfast Health and Social Care Trust.
It comes amid concerns some patients may have been misdiagnosed.
It is the biggest ever patient recall in the Belfast Trust.
The patients affected had attended Dr Watt's clinics at the Royal Victoria Hospital in Belfast and privately, at the Ulster Independent Clinic and Hillsborough Private Clinic.
On Friday afternoon, the Ulster Independent Clinic released a statement explaining that, as an independent clinical practitioner who used its facilities, "Dr Watt retains his own patient records".
'Aware of anxiety'
The statement said the clinic has sought advice "on obtaining access to the information required from these files urgently to allow us to accurately identify any patients who may need to be contacted".
"We are acutely aware of the seriousness of this situation and the anxiety it is causing many patients and their families," it said.
"As we focus on identifying those private patients who may need to be contacted in light of the concerns raised, we would like to reassure any of Dr Watt's patients, potentially impacted by this issue, that we are moving as quickly as possible to alleviate their concerns."
Politicians met representatives of the Belfast Health and Social Care Trust on Friday ahead of the opening of special clinics, beginning on Saturday, to review patients affected.
SDLP MLA Nicola Mallon, who attended the meeting, told BBC Radio Ulster's Evening Extra programme that she understands the Department of Health was first made aware of the Belfast Trust's concerns about Dr Watt in February 2017.
She added that she has received assurances from the trust that its representatives will meet with patients face-to-face to explain what has happened.
"I do have concerns about checks and balances, or the lack thereof, and I think that needs to be addressed."
The Belfast Trust also released a statement on Friday saying it recognises the "extremely stressful time" many patients and their families were enduring.
"Every patient who has been recalled will be seen over the next 12 weeks," it added.
"To-date, we have booked appointments for just over 2000 patients and hope to have the remaining patients booked in for their appointment over the course of next week."
The Ulster Independent Clinic said anyone who wishes to discuss their specific concerns should contact a dedicated helpline number - 02890686511 - on weekdays between the hours of 09:00 BST and 18:00 BST.