UVF names Tommy West as 'Ballymurphy sniper'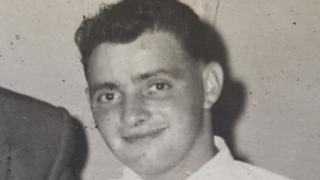 The UVF has named a man it says may have been responsible for a number of deaths during the so-called "Ballymurphy Massacre" in 1971.
A senior loyalist source said: "Volunteer Tommy West, deceased 1980, a senior UVF volunteer was the sniper involved in the gun battle."
The source said the information had been passed to the police legacy unit and the Coroner's Court.
It said the UVF wanted "to put the record straight".
A solicitor has confirmed to the BBC that he passed a document to the coroner on Friday containing the name Thomas Johnston West.
He said he was satisfied that the named man died 19 October 1980 of natural causes.
Campaigners have always maintained that members of the Parachute Regiment were responsible for civilian deaths during three days of gunfire involving soldiers in Ballymurphy in August 1971.
Ten people were shot dead, including a priest trying to aid one of the wounded and a mother-of-eight. Another man later died of heart failure.
The shootings occurred amid disturbances sparked by the introduction of internment without trial in Northern Ireland.