Dungannon man jailed for attempted child abduction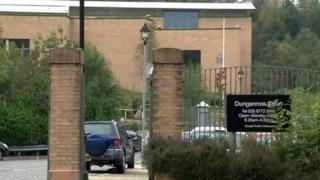 A Dungannon man found guilty of attempting to abduct a friend's five-year-old child from her school has been jailed for three months.
On being challenged by staff, Justin Patrick McDonald, 37, of Union Street, threatened to set the premises alight.
It was a situation described by a judge as "a disgraceful episode".
The defendant, who has 172 previous convictions, asserted his intentions to take the child and threatened staff with violence in the process.
Arriving at the school extremely drunk, on 18 November 2016, McDonald demanded that the girl be handed into his care, and became angry when he learned that social services had been notified.
Threat
When he was prevented from getting to the child, he threatened to burn the school down.
McDonald denied the offences and maintained "there was no issue", as he was fit to have the child released to his care, despite having no connection whatsoever to the girl, other than that she was a friend's daughter.
He also denied being drunk or aggressive and said he only raised his voice when the school principal "provoked" him.
Three witnesses from the school gave evidence from a behind a screen at Dungannon Magistrates Court, such was their continuing fear of McDonald.
The court heard the Primary 1 pupils had left for home on the school bus.
Drunken state
However, no-one was present at the child's home and the driver returned her to school.
Staff decided to contact Social Services and while enquiries were underway McDonald arrived at the school in a drunken state claiming he was collecting the child.
The principal refused, saying a social worker would take the child.
McDonald approached the child's classroom but her teacher had locked the door.
He "put his shoulder to the door" but could not force it.
The teacher took the child into another room and the principal said: "Call the police. He's threatened to burn the school down."
Social services
During his evidence to the court, McDonald maintained he was fit to care for the child and accepted being angered by the principal's insistence on alerting social services.
He said: "There was no need to get them involved. She was adamant. I just can't see what the big issue is."
McDonald also denied threatening to damage the school.
He was convicted on both counts and the judge said:
"This was a disgraceful episode. Any person who turns up at a school, asserting his right to remove a five-year-old girl, and threatening staff who stand in his way, may expect a custody."
The judge jailed McDonald for three months, however he declaimed a prosecution request for a restraining order.