EU relaxes subsidy rules for weather-hit NI farmers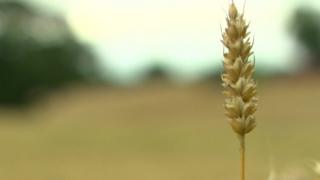 Northern Ireland's arable farmers have had rules on the crops they must plant to get subsidy payments, relaxed by the EU due to the bad weather.
A cold, wet autumn and spring made it difficult for farmers to comply with regulations.
Arable farmers with more than 30 hectares must plant three crops in order to secure their payments.
Growing a wider range of crops - known as the "greening requirement" - should make soil more resilient.
But a combination of weather and ground conditions has made it difficult for farmers to get machinery on to saturated ground, or to plant the required range of crops.
The head of food and farming at the Department of Agriculture, Environment and Rural Affairs (DAERA) welcomed the news.
Norman Fulton said it would "allay some of the concerns" expressed by arable farmers and provide them with "reassurance".
DAERA had sought a derogation from the rules last month.
The Ulster Farmers' Union also welcomed the decision with president, Ivor Ferguson, saying growers had been facing huge challenges following a prolonged spell of wet weather.
"Many farmers were unable to plant winter crops due to poor field conditions and the delayed planting of spring crops has left them with very few options," he said.
"This is welcome news for farmers who can be reassured that their greening payments will not be impacted on now the derogation has been agreed. Growers will be able to make crop choices that best suit their current situation."
The derogation has also been applied to farmers in Scotland.