Anthony McErlain murder: Killer describes 'bloodbath'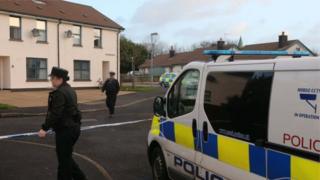 A man with 101 previous convictions who kicked and punched his victim to death in Ballycastle described the murder scene as "a bloodbath".
Earlier this year, Christopher Keenan, 36, of Broombeg View in Ballycastle admitted murdering 49-year-old Anthony McErlain and was given a mandatory life sentence.
Mr McErlain was found dead at a flat in January 2016.
Police said at the time he had suffered a "traumatic and frightening death".
During a tariff hearing at Belfast Crown Court to determine how long Keenan's life sentence will be, the judge was told Mr McErlain had sustained 24 separate injuries to his head and neck and another 20 to his arms and body although not all of those were attributable to the assault.
In an interview with police, Keenan said the assault had lasted no more than a minute, and that the victim had made "a gargling noise" when it was over.
He also told detectives: "It was a bloodbath and then I freaked out.
"It was a bloody mess. The place was soaked in blood, he was soaked in blood, I was soaked in blood."
'Broken neck'
The court heard a pathologist could not establish the exact cause of death.
It was heard that multiple blows had been struck with fists and feet as the victim lay on the ground and that Mr McErlain had suffered lacerations, bruising, brain injuries, a broken neck bone and a broken nose during the assault.
The court was told that the fatal assault took place following an argument between the victim and Keenan's uncle, John Keenan, whose flat the men had been drinking in together on the day of the murder.
Mr McErlain, John Keenan and Christopher Keenan were all described as alcoholics.
Mr McErlain's blood alcohol reading was 323mg of alcohol in 100ml of blood at the time of his death - more than four times the drink drive limit.
A neighbour who saw Keenan after the assault said he was "white as a ghost and quiet", and told them Mr McErlain was "lying dead in a pool of blood".
During police interview, Keenan said he had been defending his uncle, but admitted kicking and punching Mr McErlain numerous times in the head and face as he lay prone on the ground.
He said his uncle assaulted the victim also, and hit him with a ceramic teapot.
The court was told Keenan then asked: "How long do you get for murder these days?"
'Much-loved family member'
It was heard Christopher Keenan had 101 previous convictions for motoring offences, assault and robbery.
In November last year, John Keenan, 51, also of Bloombeg View in Ballycastle walked free from court after the judge ruled he should not stand trial for Mr McErlain's murder.
Father-of-two Mr McErlain, who was a labourer by trade, was also a grandfather who had worked on the building of the Channel Tunnel.
The prosecution described Mr McErlain as a "much-loved family member".
A barrister said: "The impact on the victim's family has been considerable, particularly as they come to terms with the way in which he died."
A defence barrister said Keenan has shown remorse and "regrets and completely apologises for what he did".
He added: "In its origins this was a fall out between friends, fall outs were not unusual and were regular."
The court was told that in a pre-sentence report, Keenan described the murder as a "disaster" and said he had "committed the worst deed possible".
Keenan will be sentenced next week.